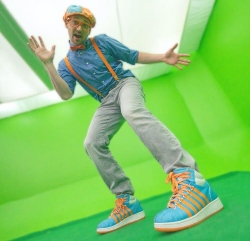 Las Vegas, NV, July 26, 2018 --(
PR.com
)-- As of June 2018, Blippi has exclusive licenses for shoes with K-Swiss and outdoor activity products with Westridge Outdoors.
"Blippi," created and hosted by Stevin John, is a leader of children's content in the digital space. With over three billion YouTube views and receiving a whopping 300-million views a month, Blippi's lively blue and orange outfit has become synonymous with fun and educational content for millions of 2-6 year-olds worldwide. Both K-Swiss and Westridge Outdoors plan to take Blippi to the next level.
K-Swiss shoe company has focused on entrepreneurship and go-getters in recent years. They've gained heavy media traction with their recent shoe deals with groundbreaking partners, such as e-sports teams and businessman extraordinaire Gary Vaynerchuk. Turning to the kids market was an easy choice for Sr. Designer Hommy Diaz, who discovered Blippi through his young son. "We thought it would be a great fit," Hommy explains, "An entrepreneur himself, Stevin is doing great things in the digital space and in the world. I knew there was real partnership potential." The Blippi and K-Swiss shoes will be available this winter 2018 in Footlocker stores across the USA.
Ely Alexander Khakshouri of Westridge Outdoors, initially reached out to Blippi for rights to create a licensed version of his extremely popular balance bike - the Critical Cycles Cub Balance Bike. After discussions, the deal expanded to include many other outdoor activity products. "Westridge is passionate about encouraging an outdoor lifestyle, and Blippi was born to educate children," says Ely. "Our new partnership is exciting because of how much passion we each have for our own missions and each other's. Westridge couldn't ask for a better partner in educating our youth about playing outside in a way that's fun and safe." The pedal-less bikes appropriate for children 20 months to 5 years, overlaps perfectly with Blippi's target age group.
Consumers can expect to see an entire line of Blippi outdoor gear with Westridge in the next few years, but the Blippi bikes and helmets will be available Q4 of 2018.
Stevin John is looking forward to expanding his range of Blippi merchandise as he brings his digital show into the physical product world.
Contact:
Alyssa Ingham
(253) 266-0832
alyssa.kideo@gmail.com