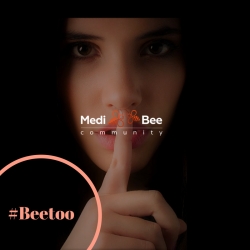 London, United Kingdom, August 02, 2018 --(
PR.com
)-- MediBee Community, an international team consisting of UK/Scandinavian roots, has created a movement in the last two weeks with thousands of people hashtagging #BeeToo.
They and MediBee Founders are reaching out to US and UK media, editors and journalists, for support to spread their message.
MediBee Community, a new global grassroots non profit organisation based in London and Copenhagen, launching their international GoFundMe Page today, is encouraging all who are affected by depression, anxiety, pain, medicine dependency and addiction, as well as relatives and families to those affected, to stand together, taking part in development of the first global Social Network App - the MediBee Community Support.
MediBee Community Support has already hit the AppStore and GooglePlay in pre-phase, but is a mile away from the full development of the amazing global support platform that is planned, to meet the needs of millions of people who suffer alone, with nobody to share their challenges with or to gain support from.
MediBee Community is here to change that!
#BeeToo is MediBee's hashtag stating: I am affected by this and I am breaking silence!
#BeeToo and MediBee's digital solutions are here to stay, and in reflection of the amount of individuals fighting with addiction, dependency, depression, anxiety, eating disorders, and other mental health struggles, many believe that this platform will be the support and network, which not only will break silence, but prevent fatal outcomes for the thousands who feel alone in the world. In the MediBee Community App, users have a significant Bee Role. They are part of something greater than themselves and being with thousands or millions of others in the same situation, can ease physical or mental pain, when achieving support from hundreds of likeminded individuals.
On GoFundMe the #BeeToo campaign has just lauched and needs to go public, so it can raise the funds for the next stage of development, opening up support groups and new vital features. It is not possible to share out of the app, for protection of the members, so this will shield people from being seen by their family or friends.
MediBee calls on all journalists and editors who want to be part of changing lives. This is the awareness and funding campaign that needs to get global awareness.
www.gofundme.com/medibee-anxiety-depression-pain
It is time to do something about the rising challenges in the western world - and inspire other nations, to join the advanced technology based Community Support App - MediBee which can be life changing for millions of people in the future.
Currently the app was developed using the founders' savings, who have experienced depression, anxiety and even hard addiction on their own.
The Founders (5 people from UK and Scandinavia) have worked for over 12 months on the concept of MediBee.me and are devoted to Bee the change and are inspired by the thousands of small support groups spread all over the internet and Facebook. Their research and efforts have made a human interaction design, developing an unique social network not ever seen before, where peer to peer support, of any mental health or medical challenge topic, can be managed by volunteers under one roof, without commercials and other disturbing subjects, but only having a pure supportive platform in a Human Bee Universe
www.medibee.me
The MediBee Community App is a mutual global project, which only can be developed fully by having thousands of people back the project with small amounts. It can be any amount - in return they get a reward and everyone are obtaining a membership in the Bee Universe, which will evolve and expand with features as support groups (BeeHives) newsfeed (The View) sharing moments and videos, achieving support with a Support Flower - not likes. Everything is in a Bee Perspective.
The support can be gained in any hour of the day, as there is always a caring member or volunteer, a Support Bee, buzzing around looking for other Bee's in need of support or vital chats, to anyone in need.
MediBee is about breaking silence, and at the moment the #BeeToo hashtag has been tagged and shared by over 5000 people and keeps spreading, after it started in United Kingdom 10 days ago.
Members who are using support groups want to go away from Facebook, as friends and family can see the group members, even though the group is closed. MediBee Community is changing that and is predicted to have beyond 100.000 members in 2019 just from the UK.
The newborn digital grassroots founders seeks to make changes through digital solutions, which are important and meaningful for all who deal with mental health or dependency in their life.
MediBee shortly is:
- Addressing the stigma related to mental health
- Uniting people from several nations who are affected by similar struggles of mental health and medical dependency
- Developing a Bee Inspired social app revolving around peer-to-peer support, where people connect and exchange support and experience, through the conditions they have.
MediBee - Depression, Anxiety and Pain is the name of the group and page currently on Facebook.
If the project is fully backed on GoFundMe, it will be ready to hit higher ground in September/October.
Take part in the #BeeToo movement by hashtagging if you want to break silence with the rest of us.
#BeeToo #BeeOnGoFundMe #MediBeeCommunity #JustBee