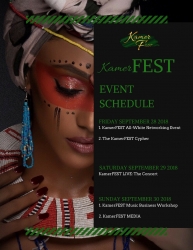 Atlanta, GA, August 08, 2018 --(
PR.com
)-- Today, KamerFEST Music Festival, which occurs in Atlanta September 28-30, 2018 and involves top African Artists coming to the USA to participate, released it's 2018 Festival Schedule.
"We're hoping to showcase Urban African Music and Culture during the KamerFEST Weekend. The planning phase has been incredible. We're very grateful for the love and support being shown our way," said DB Ndip, Founder of the KamerFEST Music Festival.
Festival Schedule:
Friday September 28th, 2018
The KamerFEST All-White Networking Event:
The All-White Event serves as the official start of the 2018 KamerFEST Music Festival. African Artists, coming in from Africa, network with Atlanta Artists, Actors, Music Executives, Entrepreneurs, Public Figures, and Professional Athletes. Event Highlights: An All-White Dress Code, A Red Carpet Experience and a Champagne Hour.
Saturday September 29th, 2018
KamerFEST LIVE: The Concert
KamerFEST Live is the live concert. Invited Artists take the stage and perform in front of a diverse crowd. Event Highlights: A Red Carpet Experience, Unique Vendors, and an Afro Fashion Display.
*ProGeorgia will be conducting Voter Registration at this Event.
Sunday September 30th, 2018
KamerFEST Workshop/Media Day:
The Last day of KamerFEST includes a Music Business Workshop and Media-related Activities.
About the KamerFEST Music Festival: The KamerFEST Music Festival is an Annual 3 Day Afro-Cultural Event which takes place in Atlanta, GA. It's main event, KamerFEST LIVE, is a Live Concert which features top African Artists who will travel to the USA to showcase their talent.