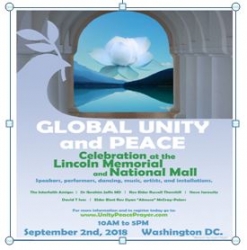 Washington, DC, August 09, 2018 --(
PR.com
)-- A Global Peace and Unity Rally, https://www.UnityPeacePrayer.com, to create a climate of tolerance, inclusivity and kindness announced. The Rally will be held at the Lincoln Memorial and surrounding park areas on the National Mall in Washington, DC on September 2, 2018. Organizers expect thousands to gather in celebration of our shared ideals, to learn about each other's spiritual beliefs and to create an uplifting energy of peaceful unity.
Peace Builders and Spiritual Thought Leaders from many traditions will participate in this effort to increase tolerance and respect through greater knowledge and understanding of the many spiritual traditions. Speakers include leaders from Christian, Jewish, Muslim, and the Baha'i Faith as well as nondenominational spiritual traditions. The event promotes peace building amongst diverse communities as well as inspiration and joy.
The current climate in the United States is so divisive that it's described as "Culture Wars." Americans have increasingly negative views of people from an opposing political party, according to New Pew Research Center https://www.NYTimes.com/2018/05/22/Upshot/Rural-and-urban-residents-feel-disparaged-pew-survey.html Surveys.
Keynote Speaker David T. Ives, Executive Director Emeritus of the Albert Schweitzer Institute and 2016 Nobel Peace Prize Nominee, states, "I am pleased to represent the ideas and thoughts of the 1952 Nobel Peace Prize Laureate Dr. Albert Schweitzer at this day of unity, peace and prayer, especially his desire to see all human beings everywhere viewed as an absolutely awesome human being. To have that sense of amazement towards all humans is something for which we all must strive. We must celebrate the richness of cultural difference instead of letting those differences divide us."
Attendance at "Day of Unity, Peace and Prayer" at the National Mall is free. The festivities begin at 10 AM and the event concludes at 5 PM on September 2, 2018.