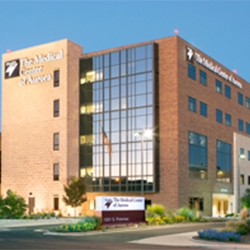 Aurora, CO, August 10, 2018 --(
PR.com
)-- The American College of Cardiology has recognized HCA/HealthONE's The Medical Center of Aurora (TMCA) for its demonstrated expertise and commitment in treating patients with atrial fibrillation (AFib). TMCA received Atrial Fibrillation with EPS Accreditation based on a rigorous onsite evaluation of the staff's ability to evaluate, diagnose and treat patients with atrial fibrillation.
"We have state-of-the-art equipment, specially trained staff and top physicians who are leading our program," says Dr. Dianne McCallister, Chief Medical Officer at The Medical Center of Aurora and Spalding Rehabilitation Hospital. "This accreditation validates what we've known for a very long time – TMCA's program is best in class."
Atrial fibrillation is a common arrhythmia, where the heartbeat is irregular and often rapid, which can lead to increased risk of stroke, heart failure and other complications. Facilities earning Atrial Fibrillation with EPS Accreditation not only demonstrate management of atrial fibrillation, but also provide full electrophysiology and surgical services. Hospitals that employ an evidence-based, protocol-driven and systematic approach to managing AFib have been able to reduce time to treatment, better identify and predict high-risk patients, and limit the length-of-stay in the emergency department and the hospital.
Hospitals that receive the ACC's Atrial Fibrillation with EPS Accreditation demonstrate a commitment to providing their community with excellent heart care. The hospitals must also take part in a multifaceted clinical process that involves completing a gap analysis; examining variances of care; developing an action plan; a rigorous onsite review; and monitoring for sustained success. Improved methods and strategies of caring for patients include streamlining processes, implementing guidelines and standards, and adopting best practices in the precise care of atrial fibrillation patients.
"The Medical Center of Aurora has one of the finest cardiac programs in the region," says Charles Fuenzalida, MD, FACC, FHRS, an electrophysiologist with Aurora Denver Cardiology Associates who practices at The Medical Center of Aurora. "We have had a very strong electrophysiology program for many years, with outstanding physicians and staff, as well as the latest technological advances. We are proud to receive external validation to confirm what we already knew."
Facilities that achieve accreditation meet or exceed an array of stringent criteria and have organized a team of doctors, nurses, clinicians, and other administrative staff that earnestly support the efforts leading to better patient education, improved patient outcomes, and more effective and efficient disease control.
About The Medical Center of Aurora
The Medical Center of Aurora, the first community hospital in the Denver Metro area to receive two-time Magnet designation for nursing excellence by the American Nurses Credentialing Center (ANCC), is a 346-bed acute care hospital located in Aurora, Colorado. The Medical Center of Aurora is comprised of six campuses in Aurora and Centennial, Colo., including the South Campus, located at Interstate 225 and Mississippi, the North Campus Behavioral Health and Wellness Center, Centennial Medical Plaza, Saddle Rock ER, Spalding Rehabilitation Hospital, Spalding Rehabilitation at P/SL, and a medical office building at Green Valley Ranch. The South Campus facility is a Level II Trauma Center with Primary Stroke Certification and Chest Pain Center accreditation, and has an affiliation with Rocky Mountain Hospital for Children. The Medical Center of Aurora received 'A' grades from The Leapfrog Group (Fall 2015, Fall 2016, Spring 2017, Fall 2017), was Colorado's only hospital to receive the Leapfrog Top General Hospital designation two years in a row (2016, 2017), and was recognized as the #4 hospital in the Denver metro area and the #4 hospital in Colorado by U.S. News & World Report (2014-2015, 2017-2018). The Medical Center of Aurora and its affiliated campuses are part of the HealthONE System. Learn more at AuroraMed.com.
About the American College of Cardiology
The American College of Cardiology is the professional home for the entire cardiovascular care team. The mission of the College and its more than 52,000 members is to transform cardiovascular care and to improve heart health. The ACC leads in the formation of health policy, standards and guidelines. The College operates national registries to measure and improve care, offers cardiovascular accreditation to hospitals and institutions, provides professional medical education, disseminates cardiovascular research and bestows credentials upon cardiovascular specialists who meet stringent qualifications.
For more information about ACC Accreditation Services, visit accreditation.acc.org, or call toll-free 1-877-271-4176.