Solomon Corporation Acquires South Dakota Transformer Repair Facility from A-Line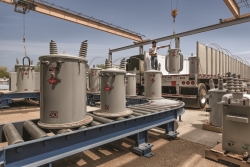 Solomon, KS, August 14, 2018 --(
PR.com
)-- Solomon Corporation and A-Line E.D.S. announced today the acquisition and sale of Dakota American Transformers. The acquisition for Solomon Corporation expands the footprint for transformer sales and services into the upper Midwest.
Tom Hemmer, CEO of Solomon Corporation, said "Dakota American represented a strong strategic fit for Solomon as we are in a period of significant growth and this allows the company to instantly expand our capacities with highly skilled labor." The Dakota American facilities offer transformer, regulator, and recloser sales and repair services to industrial and utility customers throughout the Midwest.
In the acquisition Solomon Corporation will add two operational facilities in Flandreau, SD along with the current Dakota American staff. According to Ben Stroh, CEO of A-Line, "This deal allows A-Line to concentrate all of our resources on servicing our customers from our locations in Iowa, Oklahoma, and future expansion."
A-Line purchased Dakota Transformer in 2010 and in that period the company has experienced steady growth and success. Jon Lapczenski, of A-Line states, "The timing, structure, and partner all made sense for this divestiture."
The combination of Solomon and Dakota will greatly enhance the industry leading inventory and service within the greater organization. "We continue to find great opportunities to expand as the industry demand continues to grow for the quality, speed, and service that Solomon provides," according to Mitch Sweigart, Business Development Manager at Solomon Corporation.
Solomon Corporation
is one of the nation's largest rebuilders of electrical equipment based in Solomon, KS. Dakota American represents the seventh operational facility nationwide for Solomon Corporation. A-Line E.D.S. is headquartered in Waterloo, IA with a second operations facility, A-Line T.D.S., in Tonkawa, OK.
Contact
Solomon Corporation
Mitch Sweigart
800-234-2867
www.solomoncorp.com

Contact