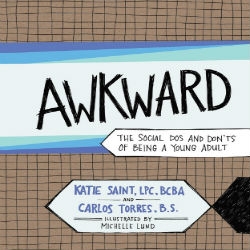 Arlington, TX, August 24, 2018 --(
PR.com
)-- In social situations, having confidence is important. "Awkward: The Social Dos and Don'ts of Being a Young Adult" breaks down family, friends, work, and community social situations to help provide tips on socially acceptable behavior in everyday situations. Each situation includes examples of dos and don'ts to target different perspectives and learning styles.
Tools compiled in this book include:
- Positive and negative examples of what to do in social situations
- An example script
- Discussion questions
- A self-assessment for each topic
Additional resources are provided to ensure understanding of communication both verbally and non-verbally. The goal of this book is to help people feel more self-assured socially; it is intended to be concise for quick reference and frequent use.
Now available for purchase on the Future Horizons website, Amazon, and more.