ATL Beltline Neighborhood Grows in Secret
Outside investors enhance Chosewood Park neighborhood by growing community. Revitalizing a Neighborhood.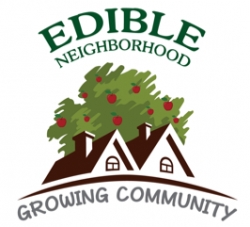 Atlanta, GA, August 28, 2018 --(
PR.com
)-- Chosewood Park, a Beltline neighborhood, has an open secret: Dozens of fruit trees by the sidewalks for all the neighbors. And now, the Edible Neighborhood program in Chosewood Park is partnering with a 501c3 non-profit, Bare Hands Bear Fruit Inc., to take the neighborhood's unique amenity to the next level.
Chosewood Park already has fruit trees, berry bushes and grapevines along the sidewalks. The new program adds culinary herbs and a gardener to help neighbors care for their plantings. Plus more plantings of fruit trees.
The Edible Neighborhood program was started four years ago by Clay Preston. Preston's investment group has renovated over 30 homes in Chosewood Park since 2008. In 2014, he started planting fruit trees in the front yards of their rentals.
"This is a very cool neighborhood. They are very nice people who were working hard together to pull Chosewood out of the recession," Preston said. "These trees will give the neighbors a connection for years to come."
Frank Bailey, director of Bare Hands Bear Fruit Inc., happens to be a Chosewood resident. When Preston introduced him to the Edible Neighborhood theme, Bailey saw an opportunity for his non-profit to help.
"We are so excited to add this new dimension to Edible Neighborhood," Bailey said. "With our own gardener, we'll have a resource to help all the interested neighbors participate and a greater variety of edible landscaping."
Preston initially planted apples, plums, persimmons, pears, figs and cherries. They are now growing along sidewalks of throughout neighborhood, which lies along the southeast quadrant of the Beltline, just south of Grant Park. The fruit is there for any neighbor to collect when ripe. Bailey said, "When Clay told me about this program, I could hardly believe it. We go to Guatemala to do this every year and I am so excited to help it happen in my own neighborhood."
Over the last couple of years, Preston and his investment group, SE Atlanta LLC, have added grape vines, berries and culinary herbs to the mix. "It has been fun to have the small children join us as we tend the plantings," said Preston. "With this new expansion of the program, well, Chosewood Park is going to be cooking."
Photographs and interviews available upon request.
www.EdibleNeighborhood.com
www.bHandsbFruit.com
Edible Neighborhood is an informal program begun by a member of the investment group, SE Atlanta LLC. The program began with the investors planting edibles in the front yards of the homes they renovated. They expanded the program to give free trees, etc. to neighbors who want to "host" a neighborhood tree. It is about growing in appreciation of the power and delight of nature, cultivated. Its vision is to encourage people to grow food and community in all the space they have.
Bare Hands Bear Fruit Inc. is a 501c3 non-profit that began working with indigenous communities within the country of Guatemala in 2003. Its mission is to provide sustainable food sources to their families for future generations.
SE Atlanta LLC is a small real estate investment company that started in 2008 to buy, renovate and sell houses in intown Atlanta. They focused on Chosewood Park, which had been hit especially hard by the recession. Edible Neighborhood is one of the initiatives they have undertaken to help support the community.
Contact
Beltwood Property Management
Clay Preston
404-271-4647
www.facebook.com/EdibleNeighborhood
Clay Preston

Contact
Multimedia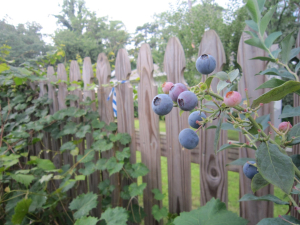 Blueberries, grapes, figs, apples in this photo are just one small part of the plantings along the sidewalks in Chosewood Park.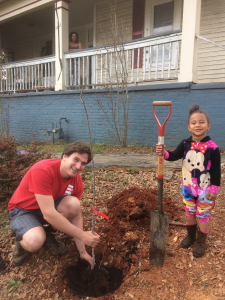 Christina and Paul are planting one of dozens of fruit trees donated by the property investors in Chosewood Park neighborhood.