Best Short Stories from 2018 Lune Spark Contest Are Now Available for Young Adults & Middle Grade Readers
Lune Spark Books announce the launch of two books for young adults and middle grade readers.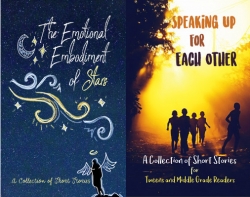 Morrisville, NC, August 25, 2018 --(
PR.com
)-- Wonderfully wide-ranging, original, and enjoyable, The Emotional Embodiment of Stars contains twenty-seven award-winning short stories like Mortimer, in which an unwanted guest secretly follows a family through their heartbreaking sorrows and Crossroads, in which a budding writer is finally preparing to meet the man she happens to exchange greetings with every morning on the way to her office.
The book is available on Amazon & other online book stores.
https://www.amazon.com/dp/1947960202/
Speaking Up for Each Other has twenty-four award-winning short stories by talented young writers. These stories are original, enjoyable, and contain a rich variety of themes and situations ranging from a helpless girl living in fear of her own family to a robot contemplating what's best for its employer.
The book is available on Amazon & other online book stores.
https://www.amazon.com/dp/1947960164/
One of the top Amazon reviewers, Grady Harp, writes in his review, "The stories are powerful and cover a wide spectrum of themes that magnetize audiences."
One of the young writers beautifully describes happiness with these verses in her short story:
Happiness is odd
Found in mysterious places
Where you least expect it
Like a glowing penny on the floor
Not everyone can find it
And sometimes you lose it
"I can't be more proud of the talented young writers of the stories in this book," Pawan Mishra writes as he introduces these wonderful stories to the readers. "These stories speak volumes of the talent our next generation of writers is going to have."
About Pawan Mishra:
Pawan Mishra is an award-winning author, producer, director, and a leader in finance and technology industries. He is on a mission to help parents identify talented young writers.
About Lune Spark:
Lune Spark Books aims to encourage children to engage in creating writing. The company works with parents and young writers to promote creative fiction writing to help identify talent. It runs annual short story competitions, conducts creative writing classes, and publishes short stories by the young writers. For more details, visit http://lunespark.com/youngwriters/.
For the details of the contest or to enroll a young writer in the yearly contest, please visit: http://lunespark.com/youngwriters/storycontest/
Social media
https://www.facebook.com/youngwriterscontest/
https://www.facebook.com/LuneSpark/
https://twitter.com/LuneSparkLLC
Media Contact
Company Name: Lune Spark Books
Full Name: Lune Spark
Phone: 9198094235
Email Address: rush@lunespark.com
Website: www.lunespark.com
Contact
Lune Spark LLC
Pawan Mishra
919-809-4235
www.lunespark.com/youngwriters/

Contact