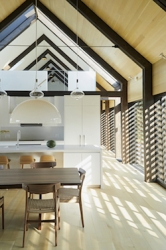 Columbia County, NY, August 28, 2018 --(
PR.com
)-- New York design firm Amalgam Studio has announced the completion of its "modern vernacular" dwelling in the Hudson Valley, with features that highlight artful forms of light and shadows, and pays homage to the area's rural character, rich heritage, and building typology.
The newly completed 5,000 sq. ft. (465 sq m), four-bedroom family residence of stone and wood, sits atop a hillside on a rural 120 acre property near the town of Rhinebeck, epicenter of the Hudson Valley's culinary and artistic renaissance. "We all love the idea of living in a barn," says Amalgam Studio Founder Ben Albury. "The generous interior space, the exposed structure, all that wood. But we don't love the lack of light, insulation, comfort, or the dirt!"
The home's design reflects local historic Dutch, English and New England Barn archetypes, informing the dwelling's strong gable form, exposed timber frames, cathedral ceilings, loft spaces, large sliding doors, wooden interior and exterior, and stone basement. Much like the traditional community barn-raising events of the past, the entire timber structure of the home was raised as 'bent' frames in one day.
While historic barn types inform the overall shape of the home's design, the barn needed to be adapted to meet 21st century expectations. "From the very beginning, the clients wanted a comfortable house. I believe it would have been irresponsible for me not to look at, and ultimately follow, Passive House Standards." The house uses super-insulation, airtight membranes, in-wall heat-recovery ventilation units, and triple glazing to ensure a comfortable interior with continuous fresh air year-round.
Operable windows and doors are positioned to encourage cross-ventilation. Heating can be provided with fireplaces and wood stoves, or energy-efficient multi-split heat-pump air-conditioning systems. All appliances are electric. Lighting is LED. Daylighting is harvested by multiple skylights. "As far as I'm aware the home features the longest triple-glazed Passive House Certified residential skylight in North America," notes Albury.
In terms of resilience, the home's south-facing facade features manually operated tilt-up sun shading devices, which, when open provide shade for outdoor dining on the expansive deck, but when closed act as hurricane shutters to combat mini-tornadoes, nor'easters, polar vortexes, and bomb-cyclones. "Every year there seems to be a different horrific meteorological event that one needs to protect from," says Albury. If accidentally left open during a snowstorm they're designed to tip downwards under the weight of snow, cleverly shedding the accumulation in the process.
The dwelling celebrates the ever-changing seasonal landscape and exploits natural light with carefully positioned windows framing distinct views. The fully glazed entrance aligns with mid-distant pine trees. Its skylight and central stair of floating treads split the home between its public living and private bedroom areas, and bring light down into the basement. Private areas have framed views to distant hills, nearby woodlands, down to the pristine river waters of the Roeliff Jansen Kill, or across wildflower meadows. Living areas possess 8-ft by 8-ft sliding glass doors which open onto decks delivering 180 degree vistas. Upstairs is a bright, white, multi-purpose loft space, complete with skylights placed deliberately for optimal stargazing.
Endemic tree species on the property informed interior material selections: white oak for flooring and lining, walnut for cabinetry, hickory for feature vanity units. Local granite, slate and domestic quarried stone guided choices for the chimney hearth, wet areas and basement masonry, respectively. The exterior cladding, including the decking, is a new product of sustainably sourced plantation pine modified with bio-based liquid, giving it hardwood characteristics. The natural wood is maintenance-free, unpainted, unstained, insect and mold resistant, and is dimensionally stable and warrantied for 30 years. It was applied as a rainscreen to all outside walls and also covers the roofs, using a unique, innovative clip system to the standing seams of roof sheeting, a first in North America.
For additional images, please visit: https://www.dropbox.com/sh/lrm0tco5b4i8e7b/AACgnz7gL98ll6ZRfrII8Duia?dl=0
Amalgam Studio is an interdisciplinary design firm blending the realms of architecture, interiors, furniture and product design, with an emphasis on thoughtful, sensible, appropriate and sustainable designs. Australian-born Albury is a graduate of the University of Melbourne and has spent the last decade in New York at award-winning architecture and interior firms, creating a body of work across three continents. Additional information can be found at http://www.amalgam-studio.com