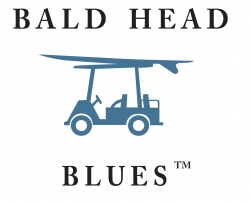 Bald Head Island, NC, August 30, 2018 --(
PR.com
)-- Bald Head Blues, a beach and island inspired apparel company distinguished by its golf cart with surfboard logo, proudly announces that company staffer Joel Dahmen has made it to the 2018 FedEx Cup Playoffs.
Each PGA TOUR Professional begins the race for the FedEx Cup Playoffs with points gained during the PGA season. Dahmen began the race with 676 points. His three Top-10 finishes contributed to his total points which permitted him to play at the Northern Trust as well as the Dell Technologies Championship. After the BMW Championship, the field will be reduced to 70 players and at the Tour Championship, a total of 30 players will be left in the competition.
"Our team is thrilled Joel had such a great season that he made the FedEx Cup Playoffs. That alone is a triumph. We congratulate him on his solid play and wish him the best of luck during the FedEx Cup Playoffs," commented Bald Head Blues Founder & CEO, Claude Pope.
Dahmen has worked hard to get to this point in his career. He turned professional in 2010. He played on the PGA TOUR Canada from 2010 to 2013. In 2014, he took two titles and received an "Order of Merit" which garnered him his first Web.com TOUR card for 2015. During the 2015 Web.com TOUR he secured three Top-10s finishes which advanced him to the Web.com TOUR Finals. Unfortunately, he didn't qualify during these finals.
In 2016, Dahmen returned to the Web.com TOUR where he made 13 cuts out of 20 events during the regular season, including two ties for third place. He received his PGA TOUR card for 2017 by finishing 25th on the money list.
During the 2016-2017 PGA TOUR season, he finished 176 in FedEx Cup rankings with his best finish being a tie for ninth place. So, he competed in the Web.com TOUR Finals to regain his 2017-2018 PGA TOUR card where he captured 24th place.
In 2018, Dahmen signed a two year Bald Head Blues endorsement deal. Since joining the Bald Head Blues team, he is playing some of his best golf of his career.
About Bald Head Blues:
"Clothing for Coasting"
For over 25 years, the Pope family has enjoyed the wonder and majesty of Bald Head Island with its acres of beaches, untouched marshes, maritime forests, pristine harbor and casual coastal lifestyle. It's a special place where nature's abundance and casual lifestyle inspired the formation of Bald Head Blues. An apparel company that embraces the island's extraordinary experience.
Unique to the island is its mode of transportation. Locals and tourists alike use electric golf carts to get around and more than often they are hauling beach chairs, umbrellas, boogie boards and surf boards. This island lifestyle where a quick ride to the beach becomes an adventure is represented by the Bald Head Blues logo.
All pieces in the Bald Head Blues Collections are fun, casual, colorful and classic. They employ high performance fabrics, refined designs and an inimitable attention to details. The new 2019 Spring Collection which include Aruba, Coral, Lavender, Regatta and Spring magnify the island's vibrant colors. Each series is bold, fresh, and energetic.
Bald Head Blues is known for their coastal and island style but their collections also incorporate technology like "Comfort Flex" which combines pima cotton with the performance and stretch of spandex. For rounds played in the heat, Bald Head Blues has utilized "Comfort Dry." This polyester/spandex blend is moisture wicking, lightweight and has a 4-way stretch for ultimate performance. The new Albatross Polo is also treated with a UPF 50+ for UV protection.
These high performance technologies and fabrics are worn by Bald Head Blues brand ambassadors and PGA TOUR Professionals Joel Dahmen and Martin Piller. They both face extreme weather changes on the tour and their Bald Head Blues polos keep them comfortable and ready to compete.
Bald Head Blues transports you to a place you want to be – even if you aren't there. Maybe it's to the golf course, the tennis courts or on the beach. For the Pope Family, its Bald Head Island. Where do you want to go?
For more information, please visit https://www.baldheadblues.com.
Keep up-to-date with all of Bald Head blues news on social media:
Instagram:
https://www.instagram.com/baldheadblues/
Facebook:
https://www.facebook.com/baldheadblues
Twitter:
https://twitter.com/BaldHeadBlues