The Glamorous and Talented Heather Dubrow Honored as a Woman of Excellence by P.O.W.E.R. (Professional Organization of Women of Excellence Recognized)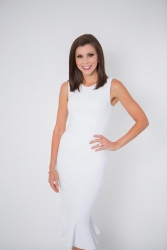 Manhasset, NY, October 05, 2018 --(
PR.com
)-- Heather Dubrow has been honored as a Woman of Excellence by P.O.W.E.R. (Professional Organization of Woman of Excellence Recognized) for her outstanding contributions and achievements as an Actress, Singer, Television Personality, Author, Host and Entrepreneur. She will be on the cover of the fall issue of P.O.W.E.R. Magazine and will be featured in the magazine along with Laura Ingraham, radio and TV host, mother and breast-cancer survivor, the award-winning make-up artist Charlotte Tilbury and many other professional women from all different industries. Our interview with Heather Dubrow can be heard on
powerwoe.com
on P.O.W.E.R. Radio.
About Heather Dubrow
Heather Dubrow is a multi-faceted woman of many talents. Her career as an actress took off in 1994. She appeared in numerous television shows and TV movies including "Married...with Children," "Roseanne and Tom: Behind the Scenes," "Life with Roger," "Jenny," (NBC) "Carly" and "Stark Raving Mad" (NBC) where she played Margaret "Maddie" Keeler for 22 episodes. From 2000 to 2002, she starred in the CBS television drama "That's Life" where she portrayed Lydia DeLucca. Heather joined "The Real Housewives of Orange County" in 2012 and departed the series in 2016. She continued her acting career appearing in numerous television shows including "SEQUESTERED," a Crackle original series. Heather is also an accomplished host with credits ranging from news rooms to talk shows and cohosted several episodes of "BOTCHED POST OP" (E!), which is the after show to the reality television show, "BOTCHED" which follows her husband, Terry Dubrow and Paul Nassif as they remedy extreme plastic surgeries that have gone wrong.
For 4 years, Heather toured with a 14 piece Big Band as the lead singer opening for artists including Mel Torme, Manhattan Transfer and Dana Carvey. She also performed the "That's Life" theme song, "Learnin' As I Go," used in the show's second season. Heather is also conquering the Podcast World with her highly successful show, "Heather Dubrow's World" on PodcastOne. It premiered at #3 on the iTunes Charts for North America.
Heather and her husband, Terry, developed a skin care line over the last 15 years called Consult Beaute. It is sold on the Evine shopping channel, and is the fastest growing beauty brand on Evine. It is also sold on Amazon.com and is a revolutionary approach to anti-aging. While most anti-aging products only offer topical creams, Consult Beaute goes one step further with an innovative combination of time-fighting topical products and ingestible supplements to help support healthy skin, hair and nails. Heather tests each product herself and provides recommendations on how to make them even better. Having tried all of the formulas, she loves being able to present the line from a woman's point of view.
The Dubrow's have written two books together, both of which are available on BarnesandNoble.com and Amazon.com. The first book is titled, "Dr. and Mrs. Guinea Pig Present the Only Guide You'll Ever Need to the Best Anti-Aging Treatments." It outlines all the best techniques and treatments; from tried-and-true to the newest treatments you have not heard of yet; from inexpensive drugstore creams to complicated surgeries; from simple to outrageous. They provide all the information and research needed to create your own unique anti-aging plan so you can look and feel your best.
Their newest book, "The Dubrow Diet: Interval Eating to Lose Weight and Feel Ageless" was released in October 2018. In this book, the couple shares the diet and exercise plan they created to end their own decades-long yo-yo dieting and flip on what they call the "ageless switch." The central concept is called "interval eating," a practice based on research showing that "when" you eat is perhaps the most important factor in weight loss and weight control. The book introduces you to a simple eating schedule that will give you power over your hormones that regulate your weight and the molecular factors that determine how you age. It will increase your energy and help you reach your goal weight. The diet is sustainable and even fun!
Born on January 5, 1969 in the Bronx, Heather grew up in Chappaqua, New York. In 1990, she received her Bachelor of Fine Arts in Musical Theatre from Syracuse University. In 1999, Heather married Terry Dubrow, a world-renowned plastic surgeon. They reside in Newport Beach, California and have four children.
About P.O.W.E.R. (Professional Organization of Women of Excellence Recognized)
P.O.W.E.R is a website as well as a digital and print magazine featuring professional and famous women. Our mission is to provide a powerful network of empowering women who will mentor and inspire each other to be the best they can be. Through our valuable services, our members can collaborate with like-minded professionals, gain recognition and obtain knowledge from those who have already achieved success.
Contact
P.O.W.E.R. (Professional Organization of Women of Excellence Recognized)
S. K. Koop
516-365-3222
www.powerwoe.com
Ellen Gold

Contact