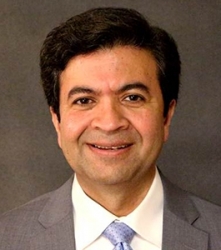 Englewood, CO, September 13, 2018 --(
PR.com
)-- HCA/HealthONE's Swedish Medical Center, a nationally recognized 408 bed level one trauma center located in Englewood, Colorado, continues to extend its reach in healthcare with the announcement of their first robotic assisted lobectomy this week. The news comes less than one year after the hospital launched their Swedish Surgical Robotics Institute and is just another indication of the innovative options available through this unique program.
"It's an important achievement for Swedish," said Dr. Sanjay Tripathi, Board Certified Thoracic and Cardiac Surgeon with Colorado Cardiovascular Surgical Associates. "It marks the continued growth of the program and the growing request for this minimally invasive procedure." Dr. Sanjay Tripathi is the first surgeon at Swedish Medical Center to perform this procedure.
A robotic lobectomy is a procedure performed using the da Vinci Xi® Surgical System, a specialized surgical tool that allows the surgeon better visualization and improved fine motor control. These benefits are especially important in lung cancer surgery where dissecting around the heart and great vessels require maximal dexterity. This new procedure will greatly benefit patients of the Swedish Medical Center Comprehensive Lung Cancer Program.
"We are pleased to be able to offer this advancement in robotic surgery to the community," said Tyler Hood, Vice President of Operations at Swedish Medical Center. "Swedish prides itself in offering a variety of minimally invasive surgical options coupled with quality, compassionate care."
Patient benefits from robotic assisted surgery include less pain, smaller incisions, and a faster recovery time. Using the da Vinci Xi® Surgical System, surgeons at the Swedish Medical Center Surgical Robotics Institute perform advanced gynecologic surgery, general surgery, and urologic surgery. For more information about the Institute visit SwedishHospital.com/Robotics.
About Swedish
Swedish Medical Center, part of HCA's HealthONE, is located in the south metro Denver area where it has been a proud member of the community for more than 110 years. An acute care hospital with 408 licensed beds, annually Swedish cares for more than 200,000 patients with a team of approximately 2,000 dedicated employees, 300 volunteers and 1,400 physicians.
With stroke door to treatment times averaging just 20 minutes, Swedish serves as the Rocky Mountain Region's referral center for the most advanced stroke treatment, and was the state's first Joint Commission certified Comprehensive Stroke Center. Swedish also serves as the region's neurotrauma and orthopedic trauma provider and is the area's only level I trauma facility with a dedicated burn and reconstructive center. Over 150 facilities regularly transfer highly complex cases to Swedish.
Swedish Medical Center offers patients the highest quality care and the most advanced technologies and treatments in nearly every medical specialty including adult and pediatric emergency, heart care, neurology/neurosurgery, pregnancy and childbirth, orthopedics and joint replacement, cancer care, gastroenterology and liver care, gynecology and urology. Additional information about the hospital is available at www.SwedishHospital.com.