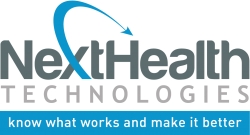 Denver, CO, September 24, 2018 --(
PR.com
)-- NextHealth Technologies, which helps healthcare organizations know what works to drive faster and better business decisions, reduced costs, and improved outcomes, today announced that its Fall Executive Advisory Council meeting is being held in Chicago, Illinois at Microsoft's Technology Center September 24-25, 2018.
Leaders from national, regional, and blues health plans as well as regional hospitals will convene to discuss the value of advanced analytics in driving outcomes and reducing medical spend. They will also review and evaluate best practices for addressing cultural change and adoption of advanced analytics in healthcare.
During the previous meeting, executives from 10 leading health insurers representing over 25% of the insured U.S. population identified key priorities including:
- Measurement and optimization through advanced analytics is important and budgeted for by the attending health plan executives.
- Respondents allocated an average of 33% of their analytic budgets to measurement and optimization, followed by predictive modeling (28%) and provider analytics (21%).
- Siloed technologies, inconsistent methodologies, and processes are hindering development of scalable program evaluation in health plans.
- Respondents indicated that workflow-integrated platforms that leverage diverse, clean data and advanced algorithms are needed to make decisions faster, cheaper and more effectively.
In this Council session, attendees plan to address how to practically transform healthcare organizations to keep up with the pace of change and possibilities that empowered consumers, big data and advanced technologies bring.
"Our Executive Advisory Council was created to bring together future-focused industry leaders who are committed to addressing complex healthcare challenges," said Eric Grossman, CEO of NextHealth Technologies. "Everyone agrees that we need to make better decisions faster. This group of leaders is at the forefront of defining how we do that effectively."
The NextHealth Executive Advisory Council is an invitation-only think tank that brings together healthcare thought leaders to determine how advanced analytics can improve outcomes, enhance program effectiveness, and deliver transformative cost savings.
For more information regarding the Council and the 2018 survey on Creating Sustainable Competitive Advantage in Healthcare Through Measurement and Optimization, visit https://nexthealthtechnologies.com/advisors/know-what-works-to-control-healthcare-costs/
About NextHealth Technologies
Go beyond insights to Know What Works™. NextHealth's analytics platform measures and optimizes health plans' clinical and consumer program spend to drive faster and better business decisions, reduced costs, and improved outcomes. Our intuitive and automated SaaS solution utilizes scientifically rigorous methodologies and standardized processes, enabling a culture of measurement. NextHealth's platform scales to improve any existing program and is deployed with expert services to develop and optimize new programs such as ER reduction, closure of gaps in care, chronic disease state management and more. NextHealth's platform currently serves over 25 million members for enterprise healthcare clients.
For more information, visit nexthealthtechnologies.com or follow NextHealth on Twitter @nexthealthtech
For media inquiries:
NextHealth Technologies
Christine Viera
Vice President of Marketing
cviera@nexthealthtechnologies.com
720-595-6494