MedicalFieldCareers.com Recognizes Top 35 Affordable CNA Programs for 2018-19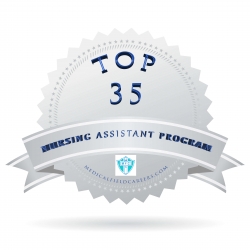 Vista, CA, September 24, 2018 --(
PR.com
)-- MedicalFieldCareers.com, a free online resource for students training for careers in healthcare, has announced its list of the Top 35 Affordable CNA Programs for 2018-19.
"Nurse assisting is one of the most popular entry level fields in healthcare and MedicalFieldCareers.com felt that it was important to recognize the programs from around the country that provide the greatest value to students," said Matt Bromley, MedicalFieldCareers.com owner and webmaster.
"Our rankings for the Top 35 Affordable CNA Programs achieve this by focusing on not only tuition costs and other measures of affordability, but by factoring in criterion such as student-to-faculty ratio, accreditations, number of courses available, to name a few. This methodology allowed us to identify 35 highly-affordable programs that compare favorably with any CNA training course in the country."
The schools featured on MedicalFieldCareers.com's Top 35 Affordable CNA Programs list appear below.
1. Davis Technical College (Kaysville, UT)
2. Pickaway Ross Joint Vocational School District (Chillicothe, OH)
3. Coastal Pines Technical College (Waycross, GA)
4. Ohio Technical Center at Vantage Career Center (Van Wert, OH)
5. Ogden-Weber Technical College (Ogden, UT)
6. Tri-County Adult Career Center (Nelsonville, OH)
7. Seward County Community College (Liberal, KS)
8. Cloud County Community College (Concordia, KS)
9. Marion Technical College (Marion, OH)
10. Arkansas State University – Mountain Home (Mountain Home, AR)
11. Southern Regional Technical College (Thomasville, Georgia)
12. Tennessee College of Applied Technology - Pulaski (Pulaski, TN)
13. Wiregrass Georgia Technical College (Valdosta, GA)
14. Savannah Technical College (Savannah, GA)
15. Southeastern Technical College (Vidalia, GA)
16. Tulsa Technology Center (Tulsa, OK)
17. Oconee Fall Line Technical College (Sandersville, GA)
18. Neosho County Community College (Chanute, KS)
19. Santa Fe Community College (Santa Fe, NM)
20. Arkansas Northeastern College (Blytheville, AR)
21. Western Iowa Tech Community College (Sioux City, IA)
22. Allen County Community College (Iola, KS)
23. Highline College (Des Moines, WA)
24. South Georgia Technical College (Americus, GA)
25. Atlanta Technical College (Atlanta, GA)
26. Big Bend Community College (Moses Lake, WA)
27. Centralia College (Centralia, WA)
28. Sheridan Technical College (Hollywood, FL)
29. Wenatchee Valley College (Wenatchee, WA)
30. Meridian Community College (Meridian, MS)
31. Columbus Technical College (Columbus, GA)
32. Southern Crescent Technical College (Griffin, GA)
33. Coastal Bend College (Beeville, TX)
34. Lower Columbia College (Longview, WA)
35. Olympic College (Bremerton, WA)
To learn more about the schools featured on this list, and to review the methodology used, visit the
Top 35 Affordable CNA Programs list
on MedicalFieldCareers.com.
About MedicalFieldCareers.com
MedicalFieldCareers.com
is an online provider of free information on healthcare career training, certification requirements, and salary and employment outlooks by region. All data featured on the site is pulled from official U.S. Government sources. All training programs and educational institutions featured on the site are accredited by major national accrediting bodies.
Contact
MedicalFieldCareers.com
Matt Bromley
(760) 855-8499
https://medicalfieldcareers.com/

Contact