Top 10 Hot Holiday 2018 Gifts That Will Become Impossible to Find
Lethal Chicken Games predict the top 10 toys and games that will become increasingly more difficult to find and the reasons why.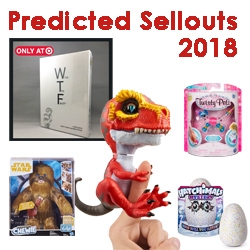 Orlando, FL, October 02, 2018 --(
PR.com
)-- Every year as the holiday decorations go up and shopping days dwindle down to the day of giving (or reckoning) buying and finding that perfect gift can become increasingly difficult, not to mention expensive if what one is looking for is one of those must-have, but out-of-stock items. Here are Lethal Chicken Games' predictions and why it is on the Hot List: The Top 10 Hot Holiday Gifts That Will Become Impossible To Find.
10. Lethal Chicken Games: Two new games...What The Film?! a party game and Camping with Sasquatch. What The Film?! has players combine three cards: one ACTOR, one PLOT and one SET to create a funny movie. Pitch, vote, backstab, win. Camping with Sasquatch on the other hand is a light, quick card game that's a cross between Rummy and Slapjack. Fast, fun and "furry-ous" with silly artwork, this looks to be the "next big thing" in games.
Why on the Hot List?
What The Film?! was featured in celebrity gifting suites and swag bags during various awards shows and celebrity events. It was also the offical game given out to celebrities who will appear on the 2019 season of Hollywood Game Nights (shot in early October 2018). As a new company releasing their first two games this year, the quantities produced are at or under 10,000. So when they're gone, there will not be enough time to restock before Christmas. You can get What The Film?! now at Target.com and Camping with Sasquatch will be available on Amazon.com beginning November 1st, 2018.
9. LEGO Harry Potter Hogwarts Castle: It's big, its detailed, it's LEGO AND it's Harry Potter! What's not to love?! These sets are not just for kids any more. Adults collect them, fanatics build them and Harry Potter fans will go crazy for this incredibly intricate castle. For a more affordable option, check out the LEGO Harry Potter Hogwarts Great Hall.
Why on the Hot List?
Between kids, adults and Harry Potter fans of all ages pining for the ultimate Harry Potter Lego set, this castle will be in high demand. Recently released in the last quarter of 2018, these sets are only on the market for so long and then they are retired. Try finding Indiana Jones LEGO...good luck!
8. The Incredibles 2 Jack-Jack Attacks Plush (and Raccoon): Between the "fire" lighting, the "laser eyes" lights and the "lightning" lights, what's not to love about this adorable, but lethal baby. Possibly the biggest fan favorite Incredible, Jack-Jack coupled with a cute raccoon checks all the boxes. A toy loved by girls, boys and fanboys will be a holiday fave.
Why on the Hot List?
It's one of the few "dolls" that works as an "action figure" as well. With the success and appeal of Disney • Pixar's The Incredibles 2, this will rapidly disappear from the shelves to reappear for good little boys and girls on Christmas morning.
7. Num Noms Lipgloss Truck Craft Kit: If you could concoct your own Hello Kitty, but it's functional and smells good and maybe even tastes good, then you'd probably be talking about Num Noms. The Lip Gloss Truck is one of the latest creations from this adorable scent-ilicious line of toys where one can mix flavors and sparkles to make their own personalized lip gloss.
Why on the Hot List?
Cute. Delicious. New. Existing Fan-base and of course, sparkles!
6. Star Wars FurReal Ultimate Co-Pilot Chewie: Grown men will want this doll. It's like a Chewbacca stuffed animal and an iPhone had a baby. Chewie roars, purrs, snores, laughs and responds based on what is happening to him through the use of accelerameters.
Why on the Hot List?
It's already hard to find on shelves. And while available at Amazon.com, reviews are already showing love from little boys, little girls and adults buying it for themselves.
5. Hatchimals Mystery: It's the ultimate unboxing for kids and there's just something about getting something and not knowing what it's going to be. Hence the popularity of those themed mystery boxes that sell like crazy at comic conventions. These cute fluffy critters hatch, learn your name and grow from baby to kid as they're played with, held and cuddled.
Why on the Hot List?
The mystery element is hard to resist and Hatchimals already have a track record of being a highly sought after Christmas gift with last year's craze being the Hatchimals Pengualas.
4. Twisty Petz: Kitties, puppies, unicorns and pandas...that turn into bracelets! They're cheap, make great stocking stuffers and it's like a cute Transformers that you can wear.
Why on the Hot List?
It's a quick, small, low-cost item that can fit into a stocking. Makes for a great, easy gift and is something girls will love to play with and wear.
3. Grumblies: Pomsies rough and tough answer to their cutsie pink and purple namesake. Furball monsters have a meltdown when they're given attention.
Why on the Hot List?
Whether or not these will catch on, time will tell. But based on the abundant success of cute interactive plushies and the comparatively sparse array of interactive tough guy plushies, we think this will become increasingly difficult to find towards the end of 2018. Need another angry plushie? Check out Lethal Chicken Games' tough chick.
2. Fingerlings HUGS: After last year's Fingerlings craze, they're back but this time bigger, softer and they fart. As a full-sized plush, these Fingerlings are sure to be a hit by playing on the popularity of last year's frenzy.
Why on the Hot List?
Parents still reeling from not being able to get their princesses last year's toy craze are sure to remedy that mistake by getting this year's bigger, softer, fartier version.
1. WowWee Untamed T-Rex (and Unicorn) by Fingerlings: Claiming both our number one and two spots, Fingerlings has expanded their insanely popular cute creatures to appeal to the boys and future paleontologists. It roars, chomps and of course farts.
Why on the Hot List?
It's cute, it works for boys and girls, the pricepoint is under $15 and it fits in a stocking. These little guys are sure to get snatched up quickly.
Contact
Lethal Chicken Games
Alex Mackey
310-902-6930
www.lethalchickengames.com

Contact