OOTify Finishes as Finalist at USC SLAM Center for Body Computing Competition to Cap Schedule of Competitions
OOTify, a mental wellness technology startup based in Los Angeles, competed against 28 different health technology companies to be selected as 1 of 4 companies to compete at the 12th Annual SLAM CBC Conference. The goal was to see how digital health can make the entire health care experience more personal, efficient, holistic, affordable, accessible and comforting for each individual. Although OOTify did not win 1st place, the team was honored to be surrounded by such incredible companies and fo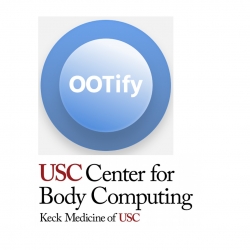 Los Angeles, CA, October 04, 2018 --(
PR.com
)-- OOTify, a mental wellness technology startup based in Los Angeles, competed against 28 different health technology companies to be selected as 1 of 4 companies to compete at the 12th Annual SLAM CBC Conference. The goal was to see how digital health can make the entire health care experience more personal, efficient, holistic, affordable, accessible and comforting for each individual. Although OOTify did not win 1st place, the team was honored to be surrounded by such incredible companies and founders as a finalist.
Digital health technology has the potential to solve many problems in healthcare, from access to costs to efficiency. OOTify targets a massive dilemma -- the mental health crisis -- and presented comprehensive multidisciplinary solutions to target the providers and the consumers, as well as analytical problems in mental health. Judges were enthused with OOTify's technology solution, coupled with an approach that provides content and community, while recognizing the large scale of the problem the Company seeks to address.
Leading up to the SLAM competition, OOTify won first place in a "Shark Tank Style" competition hosted by Pitch Globally. Pitch Globally is an organization whose mission is to connect startup founders with investors by means of pitch events. The list of companies competing included 15 esteemed start-up ventures in various stages of development. As a result of winning the competition, OOTify has been connected to numerous angel investors and closed its second round of funding.
Kaustav Chaudhuri, Founder of Pitch Globally, recapped the event in stating, "We were really pleased with the cohort of companies that participated and competed. A wide variety of factors go into winning a Pitch Globally event, including team, execution, marketing, delivery, business model and ability to handle Q&A under pressure. OOTify was able to perform well on all metrics and the investor interest has been very strong."
For OOTify, the 1st place finish comes on the heels of placing in the top 3 at another pitch competition hosted by TiE SoCal Labs — a nationwide organization focused on developing entrepreneurs — and spearheaded by Smita Bagla, the TiE SoCal Region President and CEO of Aligned Strategies. Both TiE and Pitch Globally are paving the way to creating a startup-friendly ecosystem in Silicon Beach that rivals Silicon Valley, significantly improving the quality of deal flow and thus, making it more attractive for investors as well as companies. On November 17th, TiE will be hosting its annual event to continue to promote the entrepreneurial spirit here in Los Angeles. TiECON Southwest 2018 is TiE Southern California's signature annual entrepreneurship conference bringing together 1000+ entrepreneurs, corporate executives, and business professionals for a great combination of substantive conversation, education and peer networking. For more information and early bird pricing, please visit: https://www.tieconsouthwest.com.
Ravi Sharma, Chief Executive Officer of OOTify, had these words to say after the competition, "It's a great honor to be among such forward-thinking companies. We're really fired up about being in Silicon Beach and the opportunities available, especially with social impact ventures — what we're doing here is important for our community. OOTify is the first mental health marketplace that brings down cost, increases seamless access, and helps solve the problem for both providers and end users to acquire quality mental health and wellness."
Smita from TiE also had a few words to say regarding OOTify, "Given the millennial mental health landscape today, I felt that OOTify was in the right space at the right time with the right team. I was impressed with their passion and simplicity of the solution. Their community solution is on the right path."
"Along with a vote of confidence from Pitch Globally and TiE, the first support OOTify received was from the USC Lloyd Greif Center Incubator, that provided a plethora of resources, and helped OOTify secure additional venture fund commitments with Paul Orlando's leadership," Ravi said acknowledging these great institutions.
Michael Quiñones, Chief Creative Officer of OOTify, added, "It's really important that we tackle mental health in a new, engaging way. With what we're seeing in the mainstream media with Kate Spade, Anthony Bourdain, and so many others, we can no longer hide from this. OOTify will help de-stigmatize the conversation of mental health and change the way we talk about our problems as a community, and that's what we're calling social enhancement."
About OOTify
OOTify™ is a mental wellness technology company based in Los Angeles. At OOTify, you can anonymously and securely engage with mental health, coaching, wellness and mindfulness professionals and mentors to overcome your issues through social enhancement. Currently, the social platform is available for use at no charge: The Fabric. The Company also launched its mobile platform in September and is onboarding passionate and experienced providers. For more information, please email iris@ootify.com or visit us at www.ootify.com.
About Pitch Globally
Pitch Globally, an organization whose main mission is to connect startup founders with investors by means of pitch events, is headed by Kaustav Chaudhuri. Pitch Globally is the "landing page" of global entrepreneurs in Silicon Valley and now Silicon Beach, many of whom return to their place of origin and remain an active member of our community on an ongoing basis. Pitch Globally is a community of investors, whether they are formal partners, owned by our friends or mentor organizations, global organizations represent the most diverse group of investors any entrepreneur can hope to meet in Silicon Valley and beyond.
About TiE So Cal Labs
TiE is a non-profit, global community welcoming entrepreneurs from all over the world. TiE believes in the power of ideas to change the face of entrepreneurship and growing businesses through their five pillars: mentoring, networking, educating, incubating and funding. TiE was founded in 1992 by a group of successful entrepreneurs and is currently the world's largest entrepreneurial organization. The values and beliefs of TiE reflect the culture and value system of Silicon Valley — entrepreneurship and wealth creation are invaluable human endeavors, and successful entrepreneurs find fulfillment in helping budding entrepreneurs.
About USC Lloyd Greif Center Incubator
The USC Lloyd Greif Center Incubator is based within the USC Marshall School of Business. The incubator is designed to accelerate the development of USC's top student and alumni entrepreneurs through experiential education, mentorship and community. The USC Incubator takes founders from feasibility and development work, on to customers, a tested business model, getting distribution, building a team, bootstrapping and investment preparation. They also provide access to other resources, such as legal and financial assistance. The USC Incubator is paving the way for USC Staff, Alumni and Students to become the entrepreneurs of the future.
About USC Center for Body Computing
The USC Center for Body Computing (USC CBC) is a digital health, research and innovation center that is reimagining everyday health and wellness services for the mainstream patient population, modern caregiver/provider, and healthcare system underwriters to make health services accessible and affordable to a broader population.
USC CBC functions as a transdisciplinary brain trust and innovation center within the Keck Medicine of USC medical enterprise. By leveraging digital technology to provide personal and continuous care, the USC CBC conducts clinical research to establish safety and efficacy of these emerging technologies.
USC CBC's Body Computing Conference (USC BCC) gathers the top thought leaders and innovators in digital health across diverse industries. Over the past 12 years, USC BCC has provided compelling content and discussions helping to foster partnerships, investments, and research projects. Competition winner demos showcasing real world results and intimate networking provide direct access and exposure to innovation.
Contact
OOTify, Inc.
Victoria Nunez
516-361-4891
ootify.com
Director of Marketing & Business Development

Contact