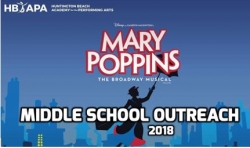 Huntington Beach, CA, October 06, 2018 --(
PR.com
)-- The Huntington Beach Academy for the Performing Arts (APA) will be hosting a "Mary Poppins" Outreach Performance for local middle schools on Friday, October 19 at 11:00 a.m. The performance will be followed by an interactive "talkback" between students and the "Mary Poppins" cast and crew.
The outreach event will aim to bridge the gap between middle and high school as 582 middle school students are welcomed to APA's HBHS campus. Nine middle schools will be in attendance, with complimentary tickets and transportation provided by the Educational Enrichment Foundation for the Arts (EEFA). The students will receive a special sneak-preview performance of the Academy's upcoming production of "Mary Poppins."
After the performance, students will be invited to engage in a collaborative talkback session with the show's APA student cast, technical crew, costumers, and orchestra.
"APA is in the process of heightening our presence among middle schools," says Zach Edwards, APA's Outreach Coordinator. "We're excited to be sharing the arts with these younger generations!"
To establish an outreach opportunity for your school, please contact Zach Edwards at zedwards@hbuhsd.edu.
APA's "Mary Poppins" runs from October 20, 21, and 25-28 in the Historic Huntington Beach Union High School District Auditorium and Bell Tower. Tickets are $22 for adults, $16 for students and seniors, and are available online at http://www.hbapa.org/see.
About the Academy for the Performing Arts
The Academy for the Performing Arts (APA) is "igniting the creative artists of the future." APA is known for its award-winning theatre and musical theatre shows, accomplished dance program, strong orchestra, and the innovative, Music Media and Entertainment Technology (MMET) program. APA provides master-level instruction in classical and popular music, dance, acting, playwriting, costume design and technical theatre to over 700 students per year. APA is the arts magnet program for the Huntington Beach Union High School District.