Lite Run Wins Best Overall in Rehabilitation Technology Competition
Lite Run announced that it has won the Rehab Tech Innovation Competition held by the American Congress of Rehabilitation Medicine (ACRM) at its 2018 Progress in Rehabilitation conference. A panel of distinguished research scientists and clinicians voted Lite Run's innovative gait training system as "Best Overall Rehabilitation Technology."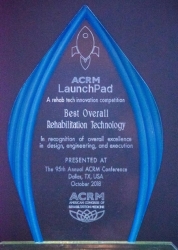 St. Paul, MN, October 06, 2018 --(
PR.com
)-- Lite Run is pleased to announce that it has won the Rehab Tech Innovation Competition at the American Congress of Rehabilitation Medicine (ACRM) 2018 conference. A panel of distinguished research scientists and clinicians voted Lite Run's innovative gait training system as "Best Overall Rehabilitation Technology." The audience of clinicians, researchers, engineers, and decision-makers voted in the selection and overwhelmingly voted Lite Run's technology "Best Overall."
Doug Johnson, Chief Technology Officer, demonstrated Lite Run's "space suit" pants technology to the panel and audience and presented recent clinical study results. "We are excited to win ACRM's LaunchPad competition and proud to have Lite Run recognized as a promising rehabilitation technology that will improve people's lives," said Doug. The ACRM award recognizes innovative companies and technologies which can improve the lives of people with disabilities. Lite Run was chosen first of five finalists.
The LiteRun™ System is an innovative device in the treatment of persons with gait and balance difficulties resulting from stroke, spinal cord or traumatic brain injuries. A gait trainer and specially designed "spacesuit" pants (exosuit) use air pressure to support body weight providing safe, comfortable unweighting for patients, while reducing the labor and lifting burden for therapists. Recent clinical study results show that patients had a two-fold increase in therapy time spent upright and in distance traveled, highlighting the potential to promote the therapeutic benefits of being upright and walking further.
About Lite Run Inc.
Lite Run is developing products to restore and enhance human mobility and enable the disabled and injured to walk and run again. The LiteRun™ System is listed with the FDA and recently released to the market. Clinical studies have been completed and are in progress: The Minneapolis VA recently completed a study for patients with neurological injuries such as spinal cord injury. Gillette Children's Hospital St. Paul, MN. is conducting a study on children with cerebral palsy.
Lite Run
|
LinkedIn
About ACRM | American Congress of Rehabilitation Medicine
The 2018 American Congress of Rehabilitation Medicine (ACRM) Conference is the largest interdisciplinary rehabilitation research conference in the world. ACRM is where cutting-edge research and technology meet clinical practice to improve the quality of life for people with disabilities. The conference is attended by thousands of researchers and clinicians who value cutting-edge research and technology.
Contact
Lite Run Inc.
John Hauck
651-336-7405
www.literun.com

Contact