Blink Device Company Launches TwitchView™ Neuromuscular TOF Monitor at American Society of Anesthesiologists Annual Meeting
Presents Clinical Validation Data Establishing Equivalence to Gold Standard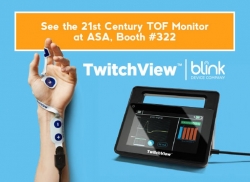 Seattle, WA, October 10, 2018 --(
PR.com
)-- Blink Device Company announced today that it is formally launching TwitchView™, a new quantitative train-of-four monitor for neuromuscular blockade, at the American Society of Anesthesiologists annual conference in San Francisco.
Professor Andrew Bowdle will present results from a study conducted at the University of Washington comparing the TwitchView's EMG algorithm to acceleromyography and "gold standard" mechanomyography. Dr. Bowdle stated, "The EMG was highly correlated to mechanomyography. We were also able to tuck the arm and obtain excellent results, which is not possible with acceleromyography."
"We've had an overwhelmingly positive response during our pilot launch," said CEO Justin Hulvershorn, M.D, Ph.D. "Based on our initial experience, TwitchView changes the way clinicians approach the management of neuromuscular block, including a more informed, rationale, and cost-effective approach to drug usage. We strongly believe this next generation technology significantly improves patient care and will rapidly find its way into operating rooms all over the world."
About Twitch View
Utilizing advanced electromyography (EMG) to quantify a patient's depth of neuromuscular block, TwitchView™ neuromuscular TOF monitor provides clinicians with reliable and accurate real-time data to support drug dosing decisions and reversal timing, helping prevent residual neuromuscular blockade.
About Blink Device Company
Helmed by industry veterans, Blink Device Company aims to identify areas in medicine that can greatly benefit from technological innovation. Its first product is the TwitchView Quantitative Monitor for neuromuscular blockade. The company is headquartered in Seattle, Washington and their products are made in the USA. To learn more, visit
www.blinkdc.com
If you would like more information, please email Elise Hyman at elise.hyman@blinkdc.com.
Contact
Blink Device Company
Elise Hyman
(312) 852-0064
www.blinkdc.com

Contact