BalanceDiet™ Introduces Innovative Small Batch Vegan Lean Protein Collection to Market
After one year of development and testing, The BalanceDiet Company has announced the launch of a new "small batch" handcrafted Vegan Protein Collection, in conjunction with one of the country's top manufacturers of natural product ingredients as well as the Food Scientists at the BalanceDiet Institute.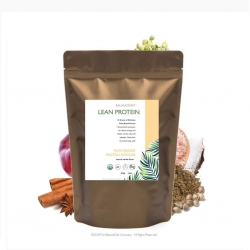 Los Angeles, CA, October 16, 2018 --(
PR.com
)-- Premium Plant Based Proteins with New Flavor profiles created in response to growing demand for better tasting Vegan protein products.
After one year of development and testing, The BalanceDiet Company has announced the launch of a new "small batch" handcrafted Vegan Protein Collection, in conjunction with one of the country's top manufacturers of natural product ingredients.
Balance Diet Lean Protein Plant Based (Vegan) Blend produced in the United States, with all organically sourced raw ingredients. The company developed a proprietary blend combining 3 of the highest quality vegan sources of USDA Certified Organic protein (hemp protein, rice protein, and pea protein), which provides a nourishing complete source of protein with superior amino acid and essential fatty acid profiles.
The low heat production process and exclusive ingredient mix delivers a 100% Gluten Free product, rich in Essential Fatty Acids and Fiber, free of any harmful chemicals. The vegan protein is also a natural source of anandamide, phenethylamine, arginine & 300 other biological compounds found in nature, delivering a fully complete protein powder, which may additionally help to support active digestion, healthy skin, and muscle repair. All ingredients are tested and verified via a FDA Registered Supplier Program.
BalanceDiet Institute Food Scientist Pam Duffols commented, "Studies have consistently shown that plant based proteins can deliver muscle toning and building benefits without much of the bloating and digestive issues that are commonly reported with (animal) protein powders such as Whey. For that reason, our Vegan products have always been referred to by clients as 'lean protein.' Our newest small batch plant-based protein collection uses some really unique and innovative ingredients, such as organic bourbon vanilla, cinnamon, and pink Himalayan salt to build a great flavor profile and deliver what we believe to be one of the highest quality proteins of its kind on the market."
There has been a significant movement towards plant-based protein powders during the last two years, according to consumer data and retailing reports. Generally regarded as cleaner, healthier, and more environmentally friendly, plant-based protein powders continue to erode the market share of former top sellers, such as whey protein, and continue to gain traction. Although whey protein is still the current market leader, plant proteins (rice, pea, hemp, etc.) are gaining share, as well as vegan culture overall.
BalanceDiet's 100% Plant based Lean Protein offers consumers a reliably environmentally friendly and trusted solution. All ingredients and elements of manufacturing are responsibly and sustainably sourced, hypoallergenic, 100% gluten free, soy free, cholesterol free, organic, raw, vegan and non-GMO, and chemical free. BalanceDiet does not employ animal testing on any of its products.
BalanceDiet 100% Plant based Lean Protein is currently available online and via
Amazon.com, as well as Amazon Prime
in two flavors: Natural Chocolate with Heirloom Cacao, as well as Organic Bourbon Vanilla. Flavors were designed in conjunction with the BalanceDiet Institute Food Experts, and are enhanced with unique, well-developed enrichments such as organic coconut water, organic cinnamon, organic Heirloom Cacao, pink Himalayan salt, organic monk fruit, and organic apples.
About BalanceDiet™
For over 25 years, the mission of The BalanceDiet Company has been to inspire others to lead a healthier life with our "Celebration of Food and Healthy Living!" approach to wellness.
The Company is recognized for its high-quality health and wellness products, including clinical quality multivitamins, detoxification kits, and weight loss supplements, as well as branded food and lifestyle products. BalanceDiet features a growing lineup of protein bars, powders, greens, and healthy snacks.
Products and award-winning "body transformation" plans are based upon solid nutritional science, coupled with easy to follow success tips. BalanceDiet products are available via our branded retail locations, online, as well as a growing number of major retail chains and department stores.
For more information on BalanceDiet, please visit
http://www.GoBalanceDiet.com
.
BalanceDiet and our manufacturing partners take every measure to deliver the highest quality products available today, exceeding current supplement industry standards.
References:
1. Valerio A., D'Antona G, Nisoli E. Branched-chain amino acids, mitochondrial biogenesis, and health span: an evolutionary perspective.
Aging (Albany NY). 2011 May; 3(5):464-78.
2. D'Antona G, Ragni M, Cardile A, et. al. Branched-chain amino acid supplementation promotes survival and supports cardiac and skeletal Muscle mitochondrial biogenesis in middle-aged mice. Cell Metab. 2010 October; 12(4):362-72.
3. Alvers AL, Fishwick LK, Wood MS, Hu D, Chung HS, Dunn WA, and Aris JP. Autophagy and amino acid homeostasis are required for Chronological longevity in Saccha. Aging Cell. 2009; 8:353-69.
4. Fuchs S, Bundy JG, Davies SK, Viney JM, Swire JS, and Leroi AM. A metabolic signature of long life in Caenorhabditis elegans. BM CBiol.2010; 8:14.
5. YalçinAS. Emerging Therapeutic Potential of Whey Proteins and Peptides. CurrPharmDes. 2006; 12(13):1637-43.
6. Krissansen GW. Emerging Health Properties of Whey Proteins and Their Clinical Implications. JAmCollNutr. Dec. 2007; 26(6):713S-23S.
Contact
BalanceDiet
Danny Mathers
917-412-5437
www.goBalanceDiet.com

Contact