AirBorn's Cable & Harness Assemblies Recognized for Quality & Reliability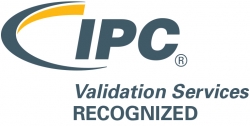 Georgetown, TX, October 22, 2018 --(
PR.com
)-- AirBorn, Inc.'s manufacturing processes have been validated as meeting or exceeding the industry's leading IPC/WHMA-A-620 Class 3 standard; the electronic industry's benchmark for the production of high-quality cables and cable harnesses.
One of just six companies worldwide awarded this prestigious validation, AirBorn's Georgetown, Texas and Lake City, Pennsylvania facilities are now IPC 620 Class 3 validated manufacturers of high-performance electronic products. Both locations now specialize in providing continued-operation or performance-on-demand components for use in critical and harsh environments applications, such as you'd find with life-support systems.
"For 60 years, the AirBorn name has been synonymous with the highest-quality, ultra-reliable interconnect systems. The IPC 620 Class 3 site validations highlights AirBorn's expertise as it extends beyond interconnects, to high-quality cables and cable harnesses," said AirBorn CEO, Cindy Lewis.
The IPC 620 Class 3 standard, representing the highest manufacturing criteria for quality wire, cable and harness workmanship, is often required by customers in the space exploration and military/aerospace markets.
"The IPC 620 Class 3 standard's principles are ingrained in our manufacturing processes, companywide. This validation further solidifies our common goal, deeply rooted in our daily work: provide unmatched quality and reliability for mission-critical applications," said Jennifer Nelson, AirBorn Inc. vice president of operations.
The validation has earned AirBorn a spot on IPC's Qualified Manufacturers Listing, showing it has becomes one of the original equipment manufacturer (OEM) trusted sources and suppliers meeting the stringent requirements of the 620 Class 3 standard.
AirBorn, Inc., a Texas-based designer and provider of innovative, high-reliability electronic manufacturing services, interconnects and value-added solutions for OEMs.
Contact
AirBorn
Tom Forys
512-863-5585
www.airborn.com

Contact