SMi Group Announce Who Will be Attending the 20th Global MilSatCom Conference and Exhibition 2018
SMi Reports: Registration for the 20th Annual Global MilSatCom conference closes in 2 weeks.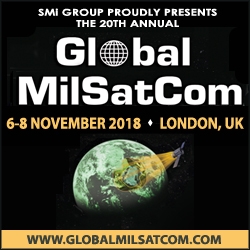 London, United Kingdom, October 24, 2018 --(
PR.com
)-- SMi Group's 20th annual Global MilSatCom conference will commence in London, United Kingdom on 6th, 7th and 8th November 2018.
With over 500 attendees, Global MilSatCom is a key calendar date for satellite professionals across both NATO, the alliance and wider international partners. Broken into 3 dedicated days of content, the meeting sets out to cover mission critical updates from national programmes from across the US, Europe and the wider international community.
The full agenda can be viewed at: http://www.globalmilsatcom.com/lc2wpr
The event has already attracted a global audience of satellite communication experts from the military and industry and will return for its 20th birthday as the most senior and international edition to date.
Nations attending include: Australia, Austria, Belgium, Canada, China, Czech Republic, France, Germany, Hong Kong, Italy, Japan, Luxembourg, Netherlands, New Zealand, Nigeria, Singapore, South Korea, Spain, Sweden, United Arab Emirates, United Kingdom, USA and more.
Attending organisations include: Advantech Wireless Inc., Airbus, AQYR, ARIANESPACE, Astrium Services, Australian Department of Defence, Avanti Communications, British Army, Canadian Armed Forces, Clyde Space, CNES, COMSAT, Comtech, CPI Satcom Division, Czech Ministry of Defence, DARPA, Datapath, Defense Information Systems Agency (DISA), DGA, Dstl, EM solutions, Embassy of Ukraine, Equatorial Space Industries, ETRI, EU Commission, EU Military Staff, European Defence Agency, European Space Agency, Eutelsat, ExoAnalytic Solutions, FMV, French Embassy, French Joint Space Command, French Ministry of Defence, General Atomics Aeronautical, Globecomm, GovSat, GRC Ltd, Harris Corporation, Hughes, Hytec Inter Co., Ltd., IHS Jane's, Inmarsat Government, Inster, Integrasys, Intelsat, Italian Army, Italian Ministry of Defence, Italian Defence General Staff, Japanese Cabinet Office, KDDI CORPORATION, Kratos, Leonardo DRS, Lockheed Martin, Luxembourg Directorate of Defense, MacDonald Detwiler Associates, MILSATCOM International, Mitsubishi Electric Corporation (Melco), Mitsubishi Heavy Industries ltd., NATO, NCIA, NEC Corporation, New Zealand Defence Force, Newtec, NGC, Nigerian Defence Space Administration, Northern Sky Research (NSR), Northern Space & Security Ltd, Northrop Grumman Corporation, NTT Communications Corporation, Open Cosmos Ltd., OSD, Paradigm Communication Systems Ltd, Phasor Solutions Ltd, PlaneWave Instruments, Raytheon, REDU SPACE SERVICES SA, Republic of Korea Defense Communications Command, RHEA Group, Roberts Communications Consulting, Rockwell Collins Aviation Services-Cedar Rapids, Royal Australian Air Force, Royal Navy, S&A Professional Services, LLC, Saab AB, Santander Teleport, SatADSL S.A, Satcube AB, Satmagazine, SatNews Publishers, SCISYS, Semper Fortis Solutions, SES Government Solutions, SES Networks, Shetland Space Centre, Sirius Constellation, Skyrora, South Korean Air Force, South Korean Army, Space News, Spanish Ministry of Defence, Stellar Solutions Aerospace Ltd., Teledyne, Telespazio S.p.A., Tesat Spacecom, Thales Group, The Aerospace Corporation, U.S Air Force, U.S. Naval Research Laboratory, U.S. Special Operations Command, UAE GHQ, UK Department of International Trade, UK Home Office, UK Ministry of Defence, UK Space Agency, United States Army Space and Missile Defense, US Marine Corps, USAFRICOM, Viasat, XTAR, Yahsat, and more.
Global MilSatCom 2018 also boasts the expertise of 60 senior speakers, 33 sponsors and exhibitors, two networking dinners and two evening receptions.
Opportunities for industry to sponsor, exhibit and contribute to the conference are extremely limited. For details on how your company can get involved please contact: Alia Malick on: +44 (0) 207 827 6168 or email: amalick@smi-online.co.uk
Registrations can be made on the event website at:
http://www.globalmilsatcom.com/lc2wpr
20th Annual Global MilSatCom
Conference: 6th – 8th November 2018
Focus Day: 5th November 2018
London, UK
Lead Sponsor: SES Networks | Gold Sponsor: Airbus
Sponsors: COMSAT, Eutelsat, GOVSAT, Harris, Hughes, Intelsat General (IGC), Kratos, Laser Communications Coalition, Lockheed Martin, Newtec, Phasor Inc., Raytheon, SES GS, Thales, Viasat
Exhibitors: Advantech Satellite Networks, Baader Planetarium GmbH, Comtech Telecommunications Corp., Datapath, ExoAnalytic Solutions, Hytec Inter, Inster, Integrasys, Open Cosmos, Paradigm, Satcube, SCISYS, Teledyne Paradise Datacom, US Air Force, XTAR
About SMi Group: Established since 1993, the SMi Group is a global event-production company that specializes in Business-to-Business Conferences, Workshops, Masterclasses and online Communities. We create and deliver events in the Defence, Security, Energy, Utilities, Finance and Pharmaceutical industries. We pride ourselves on having access to the world's most forward-thinking opinion leaders and visionaries, allowing us to bring our communities together to Learn, Engage, Share and Network. More information can be found at http://www.smi-online.co.uk
Contact
SMi Group
Shannon Cargan
207-827-6138
http://www.globalmilsatcom.com/lc2wpr

Contact