HoloAsh is Selected for the Accenture HealthTech Innovation Challenge Regional Event in Tokyo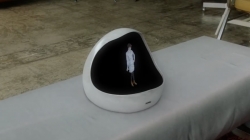 San Francisco, CA, October 24, 2018 --(
PR.com
)-- HoloAsh has been selected from 1,117 high‐quality start‐up applications to participate in the regional Accenture HealthTech Innovation Challenge being held November 1, 2018 in Tokyo.
About HoloAsh (
https://holoash.com
)
Yoshua CEO has ADHD and he thinks we humans need to create a social system in which differences can thrive.
HoloAsh is creating a virtual assistant for adults with ADHD (ADD). Based on Cognitive Science and the NLP technique, HoloAsh will help ADHD people get organized.
Actually there are 10M diagnosed adults with ADHD and estimate another 10M who have disorder but are undiagnosed. It's becoming huge problem. (https://www.additudemag.com/the-statistics-of-adhd/)
According Yoshua CEO, "The Brain is very plastic. People who use smartphones everyday become distracted and discouraged by notifications or SNS. This is similar to ADHD."
HoloAsh is now are creating a therapy chatbot, but will connect to hardware based on cognitive science to improve the UX for the future.
About Accenture HealthTech Innovation Challenge in Tokyo
Now in its third year, the Accenture HealthTech Innovation Challenge brings together leading‐edge startups with prominent life sciences companies and healthcare organizations to tackle the world's biggest health challenges, including access, quality and affordability‐of‐care options.
The HealthTech Innovation Challenge is part of Accenture's broader HealthTech Innovation program which also includes acceleration and venture opportunities, innovation labs, and more.
To learn more about it, or to book an interview, contact Yoshua Kishi at email, yoshua@holoash.com
HoloAsh, Inc.
Creating a virtual assistant for getting organized for Adult ADHD.
President and CEO: Yoshua Kishi
Contact
HoloAsh, Inc.
Yoshua Kishi
905-415-2188
https://holoash.com

Contact