New Games Rewards Life Experiences and Donates to Alzheimer's Research
New type of card game that rewards players for their real life experiences.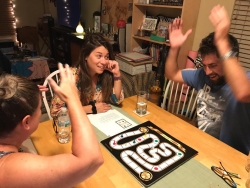 Phoenix, AZ, October 26, 2018 --(
PR.com
)-- A new series of card games recently debuted on Kickstarter, is offering a new style of games that reward players for their life experiences.
The new game is born from a family generation of grandfather, son and grandson. Created from an idea of Al Fischer, publishing son, Bruce Fischer, and grandson, James "Mr. Worldwide" Thomas, a weather forecaster and world traveller.
"My friends have all traveled a great deal and I wanted to create a game that would be both fun and give players the opportunity to share stories. This game becomes a great way to learn more about your friends and neighbors, too," says Thomas. James also has his own website, www.mrworldwide.info, where his followers keep track of his world travels.
"This new game represents a playing opportunity for each player to be rewarded and move forward in the game by having more experience in a specific field," says game creator, Bruce Fischer.
Card games have seen a new resurgence in popularity among college students, families and seniors. They represent an opportunity for friends and family to experience a social activity that is both fun and affordable. Research has shown that the combination of social interaction with friends and working with your memories can possibly increase cognitive behavior.
Custom games can be created for businesses and associations who want to create an opportunity for branding and to disseminate information to the public. These games have also been used as team building activities for companies too.
A portion of the proceeds for each game will be donated to the Banners Alzheimer's Institute in Arizona.
Experience Games are in the process of crowdfunding with Kickstarter and information can be found at
www.experiencegames.fun
Contact: Bruce Fischer
Experiencegames.fun@yahoo.com
Contact
Experience Games
Bruce Fischer
602-799-4450
experiencegames.fun

Contact