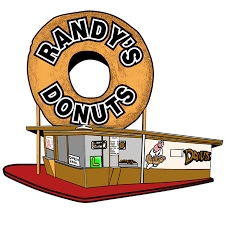 Los Angeles, CA, November 05, 2018 --(
PR.com
)-- World Famous Randy's Donuts will be creating more than 15 jobs in Hollywood with their latest restaurant opening at Hollywood & Highland on Hollywood Blvd just outside the TCL Chinese Theatre IMAX. They are currently accepting applications for a variety of roles, including: supervisors, counter sales, bakers, fry cooks, and decorators. Randy's Donuts is thrilled to be coming to the community of Hollywood and helping to grow the local economy.
Unlike other donut or dessert stores that make a few hundred a day of only a handful of varieties, Randy's Donuts team of bakers produces over 40 different varieties daily that appeal to everyone from kids, parents, business travelers, and those with the most discriminating tastes. Randy's Donuts has been making every donut by hand for over 50 years. They pride themselves on using only the finest baking ingredients available in the world. The best ingredients coupled with expert bakers and Randy's Donuts secret mixes, produces a donut that is fluffier, airier, larger, and stays fresh longer. "We never skimp on icing, glaze, sprinkles, or other decorations," says Mark Kelegian, CEO and owner of Randy's Donuts. "We go over the top to put as much chocolate, maple, cream filling, or other toppings as the donuts can possibly hold." Randy's Donuts is also a great value for families and businesses with glazed donuts, twists, chocolate raised, cinnamon rolls, apple fritters, or any of our 35 other donuts at prices at or below the competition.
"Right now, we're on the search for motivated, dedicated and enthusiastic individuals who will bring an exceptional experience to all of our guests," said David Modelo, Director of Operations. "We look forward to building a team of friends that can help not only serve the most delicious and authentic donuts, but also create a genuine relationship with the local Hollywood community."
"We're proud of the fact that when we open a new Randy's Donuts, we're not just offering genuine donuts, snacks and beverages, but we're also creating a number of jobs that can help impact the local economy," said Mark Kelegian. "We feel confident that we will find some motivated and passionate candidates to help Randy's Donuts make its mark on Hollywood."
Randy's Donuts is growing across the greater Los Angeles area with new locations opening in Downey, Santa Monica, Pasadena and Torrance as well as several other locations in Orange County. Randy's Donuts is also expanding across the USA and globally in the next 5 years. The goal is to scale the success of Randy's Donuts flagship location in Inglewood, CA, which has amassed thousands of raving reviews across Google, Facebook and Yelp and is always included as a top tourist stop for anyone living in or visiting Los Angeles.
Randy's Donuts Hollywood will be opening in early December and is located at 6801 Hollywood Blvd, Hollywood CA 90028. For more information, please visit www.randysdonuts.com
About Randy's Donuts:
Randy's is widely recognized as one of the most iconic locations in Los Angeles attracting visitors from around the world to take pictures of the giant rooftop donut and enjoy the best donuts in the world! Always a line, but always worth the wait!
No doubt you immediately recognize the landmark building from its many appearances in movies such as: Iron Man II, Entourage, Dope, Californication, California Girls, 2012, Earth Girls Are Easy, Mars Attacks!, Volcano, Get Shorty, Crocodile Dundee in Los Angeles. Randy's Donuts is also well known for its references and appearances on Tonight Show with Jimmy Fallon, Big Bang Theory, The Simpsons, Arrested Development, Victorious, and many others. It is also featured in music videos including Randy Newman's "I Love L.A.," Red Hot Chili Peppers' "Californication," and Becky G's "Becky from the Block."
Of course, to stand the test of time, it is not enough to be an iconic tourist attraction, you must have the best donuts. In addition to being the most reviewed and highest rated donut shop on Yelp, and other social media sites, Randy's has been named a Top Spot for donuts in the United States for over 50 years; including: Los Angeles Hot List #1 for Best Donuts 2014, 2013, 2012, 2011, and more; #1 on Bon Appetit's Top 10 Best Places for Donuts; #7 on America's Best Donuts – The Master List; USA Today's America's 12 Best Donut Shops; Travel & Leisure – America's Best Donuts; Fox News America's Best Donut Shops; CBS News Latest Best of LA Best Places to Get Donuts in Los Angeles 2015; America's 10 Best Donut Shops – relish.com; The 9 Best Donuts in Los Angeles (#1 Classic) – thrillist.com; and many more.
About Hollywood & Highland
Hollywood & Highland is Los Angeles' modern shopping, dining and entertainment destination for both locals and tourists located on the iconic Hollywood Boulevard. Hollywood & Highland features contemporary fashion and beauty brands, boutique cafes and eateries, and entertainment attractions with direct access to all that Los Angeles has to offer. Follow Hollywood & Highland on Twitter at @HandHCenter; on Instagram at @hollywoodandhighland; or on Facebook at www.facebook.com/HollywoodandHighland.
Media Contact:
Mark Kelegian, Nicolette Kelegian, Thomas Bartsch & David Modelo
mark@randysdonuts.com
nicolette@randysdonuts.com
thomas@randysdonuts.com
david@randysdonuts.com