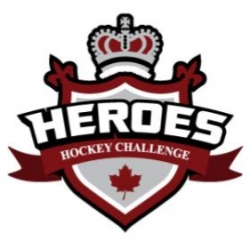 Calgary, Canada, November 05, 2018 --(
PR.com
)-- Princess Patricia's Canadian Light Infantry (PPCLI) Foundation and the Military Museums (TMM) Foundation are pleased to announce the Eighth Annual Heroes Hockey Challenge (HHC). A series of annual charitable hockey fundraising events taking place in communities across Canada with various NHL alumni teams and celebrities, HHC 2018 consists of two events: A Gala dinner at the Military Museums on Saturday, December 8, 2018, followed by the Game the next day at 2pm at the Max Bell Centre.
All proceeds raised from both the Gala and Hockey Game will be shared by the PPCLI Foundation and the Military Museums Foundation – in support of programs for Canada's serving military, veterans and their families, and military history programs for Albertan youths. Now in its seventh year, HHC events have raised more than $350,000 to date.
The star-studded Flames Alumni team will include Jamie Macoun, Mike Commodore, Mason Raymond, Curtis Glencross, Colin Patterson, Ron Stern, Perry Berezan and Corey Sarich. Lanny McDonald, currently the Chairman of the Hockey Hall of Fame, will drop the puck at the game, and Mike Cvik, former NHL lineman, will serve as referee.
The Hockey Hall of Fame has kindly offered the Stanley Cup, 125 years old this year, to be prominently on display throughout the weekend activities.
The evening before the game, the gala dinner will host active members of Canada's Army, well-known celebrities, NHL stars and civic leaders from the community. Tickets are available to the general public using the link below.
The family-friendly hockey game will be played at the Max Bell Centre, giving hockey enthusiasts the opportunity to see some great hockey as well get a close up view of the Stanley Cup.
Tickets: For both the gala and the hockey game on Eventbrite:
https://www.eventbrite.com/e/heroes-hockey-challenge-2018-tickets-51891014421
Contact - For more information about the event or sponsorship opportunities, please contact:
Alex Gault
Trustee, PPCLI Foundation
403-966-4715; agault@ppclifoundation.ca
The PPCLI Foundation
For more than 100 years, soldiers of the Princess Patricia Canadian Light Infantry have been serving Canadians with honour and distinction. The PPCLI Foundation was founded to ensure that legacy of our proud military history lives on in future generations. The Foundation serves the needs of the families of the fallen and veterans and their families, especially those who have suffered as a result of their service to Canada and Canadians.
The Military Museums Foundation
TMM Foundation brings Canadian military heritage to life for thousands of Albertans each year through Alberta curriculum-based education programs. The Foundation helps over 8,000 school children each year to stay connected to our nation's proud military heritage. The Foundation hosts two dozen education programs that explore Canada's military history from the War of 1812 to recent conflicts in Afghanistan and the Middle East.