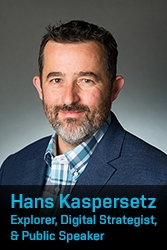 Summit, NJ, November 07, 2018 --(
PR.com
)-- "Get-it-done digital agency speaking at get-it-done conference shows healthcare marketing leaders how to get it done with artificial intelligence (AI)."
That's what attendees at eyeforpharma's Marketing and Customer Experience USA conference will say at 5 PM on November 14, at Sofitel Philadelphia Hotel, in Philadelphia, Pennsylvania. At 4 PM, Arteric's president and chief strategist Hans Kaspersetz shares the results from 2 case studies during his presentation, "
AI - Super Hearing for Healthcare Marketers. Detecting Weak-but-Important Signals of Customer Behavior
."
The first case study describes how Arteric helped a blockbuster prescription brand uncover the opportunity to more effectively connect with its target audience and tell a richer story. These insights led to a 202% year-over-year growth in traffic. The second case study is for a well-known OTC cold, cough, and allergy brand that uncovered a new target audience and contributed to the brand exceeding their targets two years in a row. Arteric's work with AI was featured in the May 2018 issue of Medical Marketing and Media.
The 2-day agenda for Marketing and Customer Experience USA is designed for senior healthcare marketing executives. Panel discussions and case study presentations from thought leaders within pharmaceutical and biotechnology companies, patient advocacy organizations, and the digital marketing industry share how technology can help change perspectives to revitalize customer engagement.
"Marketing and Customer Experience USA checks off all the boxes for us," explains Mr. Kaspersetz. "The agenda revolves around leveraging technology and data to personalize experiences for healthcare professionals and consumers, something we've been helping our pharmaceutical and biotechnology clients accomplish for 2 decades. And, conference objectives such as 'go beyond theoretical discussions' and 'future-proof your business model and culture' are core themes at Arteric."
Ruthana Foulkes, event director for eyeforpharma, explains how Arteric advances the objectives of Marketing and Customer Experience USA. "This meeting attracts marketers who seek best-in-class strategies to strengthen their existing efforts to be seen as a valued partner, not just as a vendor. To accomplish this, the agenda features healthcare marketers with a proven record of blending technology and strategy to change perspectives while engaging hearts and minds. Arteric's portfolio and publications on using artificial intelligence in healthcare marketing made them a natural fit for Marketing and Customer Experience USA."
Mr. Kaspersetz summarizes his thoughts on speaking at this conference. "Our objectives and those of Marketing and Customer Experience USA are closely aligned. Arteric revolves around a core of software development and analytics expertise. We leverage our unique digital capabilities to help our clients exceed their goals by applying state-of-the-art technology to locate, engage, and delight audiences. I look forward to sharing our insights and hearing how others achieve these goals."
Work With Arteric
For 2 decades, Arteric has helped pharmaceutical brands, biotechnology brands, and healthcare organizations transform leading-edge technology into competitive advantage. Contact Hans Kaspersetz at 201.546.9910 to advance your brand with personalized marketing solutions that work everywhere, every time.
About Arteric
Arteric is a pharmaceutical and biotechnology digital marketing agency renowned for its expertise in digital brand strategy, software engineering, data, search engine optimization, search engine marketing, CRM, and analytics. Arteric is the digital agency that will propel your clinical trials recruitment, premarket shaping, disease state education, brand launch, or brand revitalization forward with digital insights and execution that cannot be matched.