DentistryForDiabetics Donates $10,000 to American Diabetes Association for Patient Education
Elite Dentists' Group Dedicated to Helping Diabetics Fund Crucial Program.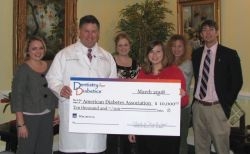 Richmond, VA, March 19, 2008 --(
PR.com
)-- DentistryForDiabetics donated $10,000 to fund vital patient and public education through the American Diabetes Association (ADA). The gift was presented by Dr. Charles Martin, CEO and Founder of DentistryForDiabetics.
"The sad truth is the majority of diabetics and pre-diabetics don't understand the importance of the connection between their dental health and their diabetic health," said Martin, a Richmond dentist. "The good news is that when you improve your dental health, your diabetic condition gets better, and as your diabetic condition gets better, your dental health improves and it becomes easier to fight off mouth infections."
Local ADA representative Elisabeth King of Glen Allen, VA received the gift on behalf of the nationwide organization. "This generous donation will help fund an education program that is a critical part of our national battle against diabetes," King said. "We are grateful for the gift and we look forward to a continuing partnership."
Formed to combat the ever-growing epidemic of diabetes through better oral care and treatment of periodontal disease, DentistryForDiabetics, is a program of elite dentists from across the country dedicated to helping diabetic patients improve their overall health by improving their oral health. "With more than 21 million diabetics, an estimated 54 million prediabetics, and 1.5 million new cases diagnosed in the U.S. each year, the connections between dental health and diabetes have never been more critical," Martin said.
The facts about the connections between oral health and diabetes are even more alarming than those about diabetes alone, Martin said.
· Diabetics are twice as likely to develop gum disease.
· People who have diabetes and severe gum disease have a premature death rate nearly eight times higher than those who don't have periodontal disease.
· In people who have prediabetes – blood glucose levels that are higher than normal but not in the diabetic range – gum disease makes it more likely that they will become diabetic.
Founded in 1940, the ADA is the nation's leading nonprofit health organization providing diabetes research, information and advocacy. The ADA conducts programs in all 50 states and the District of Columbia, reaching hundreds of communities.
"We look forward to working alongside the American Diabetes Association to help educate the public and diabetics about the link between good oral health and good overall health," says Martin.
To learn more about DentistryForDiabetics or to find a DentistryForDiabetics certified dentist near you, go to
www.DentistryForDiabetics.com
. To learn more about getting involved or making donations to the American Diabetes Association, go to www.Diabetes.org.
###
Contact
DentistryForDiabetics
Brian Forrester
804.320.6800
www.dentistryfordiabetics.com

Contact