Free Wheelchair Mission Founder Speaks at Stanford University on Social Entrepreneurship
Free Wheelchair Mission Founder and President, Don Schoendorfer, shares leadership lessons on starting the world's leading provider of wheelchairs for the developing world.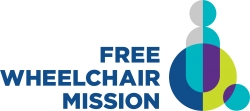 Stanford, CA, November 08, 2018 --(
PR.com
)-- Stanford University's Social Entrepreneurial Students' Association (SENSA) invited Free Wheelchair Mission Founder and President Don Schoendorfer, Ph.D. to speak at the Stanford Graduate School of Business on October 30, 2018 as part of the biannual speaker series and class, "Very Impactful People (VIP): Social Innovation & the Social Entrepreneur."
Hosted by Stanford's School of Humanities & Sciences Program on Urban Studies and organized by SENSA, the VIP series aims to foster a culture of social entrepreneurship at Stanford by connecting students with resources and opportunities for education. VIP speakers are invited from a variety of sectors, including nonprofit, financial, and academic.
Schoendorfer is the founder of Free Wheelchair Mission, a nonprofit organization based in Irvine, California that has distributed more than one million wheelchairs to people with disabilities in 93 countries since 2001. A biomedical engineer with a Ph.D. from the Massachusetts Institute of Technology, Schoendorfer holds more than 60 patents and began to develop a low-cost, durable wheelchair after witnessing the plight of a paraplegic woman crawling her way across a bustling dirt road while he and his wife were on vacation in Morocco.
Schoendorfer set out to design a wheelchair that could handle rugged terrain and endure tropical climates while being affordable enough to be mass-produced for people with disabilities in developing nations. "My intent was to write a paper on 'The Safety and Efficacy of a Durable, Functional Wheelchair for the Developing World,'" recalls Schoendorfer, "but after building 100 prototypes in our garage, my wife encouraged me to start doing something with them."
Schoendorfer gave away his first four wheelchairs on a trip to India in 2001, eventually leaving behind the lucrative biomedical field and starting Free Wheelchair Mission as a 501(c)(3) nonprofit organization. "Mobility doesn't just impact individuals," said Schoendorfer. "Mobility impacts the individual's caregivers and family members, too. One wheelchair can transform an entire community."
The World Health Organization estimates that 70 million people with disabilities around the world need wheelchairs but lack the resources to obtain one on their own. Free Wheelchair Mission manufactures wheelchairs in China and ships them directly by ocean container to distribution partners around the world. A donation of $80 covers the manufacture and shipping of one wheelchair.
"We were thrilled to have Dr. Schoendorfer speak at our 'Very Impactful People' series," said Kathryn Rydberg, President of the 2018 – 2019 SENSA board. "We believe his story will inspire students to explore ways they might use their abilities, training, and resources to effect social change."
Contact
Free Wheelchair Mission
Jennifer Walker
617-817-0400
www.freewheelchairmission.org

Contact