:06 to Super Stardom [ yellow tail ] Wine to Feature Fans in Big Game TV Commercial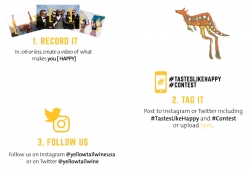 Stamford, CT, November 09, 2018 --(
PR.com
)-- [ yellow tail ] is making the dream of stardom a reality for someone, starting with a starring role in the wine brand's new TV commercial, which will debut during the Big Game on Sunday, February 3, 2019.
[ yellow tail ] will feature not just one, but two entirely fan-produced videos in their brand new "Tastes Like Happy" Big Game TV commercial reaching more than 100 million people.
Simply share a :06 video of what makes you happy to #tasteslikehappy & #yellowtailwineus by November 28, 2018 for a chance to win. Full contest rules and restrictions are on
www.tasteslikehappy.com
.
"This is a shot at instant stardom, a real opportunity to gain thousands – even millions – of followers virtually overnight," said Iain Douglas, Chief Marketing Officer for Deutsch Family Wine & Spirits, U.S importer and marketer for [ yellow tail ]. "As important, it's about doing something positive in sharing happiness with others, which is a [ yellow tail ] core value."
But, wait. There's more.
[ yellow tail ] will award one grand prize winner an all-expenses paid trip for two to their happy place (aka "anywhere in the world," up to a $15,000 value). The winner will share his or her ultimate happy experience with [ yellow tail ]'s 1.3 million social media fans. [ yellow tail ] has the largest social media following of any wine brand.
Thinking outside the wine box.
Since arriving on the scene in 2001, [ yellow tail ] has changed the way people think about and consume wine, helping introduce America to the concept that wine can be accessible, approachable and delicious. It was a game-changer: for the first time, people could get high-quality wines for less than $10. Consumer response was incredible and [ yellow tail ] made history as it grew to eight million cases in just five years.
In 2017, [ yellow tail ] once again broke conventions when it bet big on football fans and get togethers, becoming the first wine brand in nearly four decades to advertise during the Big Game. Fans responded, leading the brand to its strongest sales in years, proving wine and football pair well together. The brand returned a second year and saw similar success.
[ yellow tail ] is now going for a threepeat, this time with a new Big Game TV commercial featuring user generated content. [ yellow tail ]'s new "Tastes Like Happy" ad campaign will run on iHeart Radio, YouTube, Buzzfeed, and more.
About [ yellow tail ]
[ yellow tail ] is the champion wine brand for Casella Wines. Owned and operated in Yenda, Australia, the Casella family has winemaking links going back six generations to Italy. [ yellow tail ] wines are created with a simple philosophy - make a great wine that everybody can enjoy. [ yellow tail ] is America's most beloved wine brand in the U.S. with a dedicated consumer following that cuts across all age groups. [ yellow tail ] has the #1 imported Chardonnay in addition to four other #1 varietals. The brand has the largest social media following in the wine category and was identified by eMarketer as a top alcohol brand in terms of Facebook engagement and the only wine brand to make the top 15.
About Deutsch Family Wine & Spirits
Initially called W.J. Deutsch & Sons Ltd., the company was founded in 1981 by Chairman Bill Deutsch to market quality wines produced by prestigious families from major wine regions of the world. In 2009, it announced the expansion of the award-winning company to include a Spirits Portfolio. Today the company is renowned for its brand-building prowess and its ability to meet the needs of the modern consumer. Bill's son Peter Deutsch is CEO; thus two generations of the Deutsch family work side by side in their continuous quest to build strong brands and relationships throughout the wine and spirits industry.
The portfolio includes award-winning wines from Australia: [ yellow tail ], [ yellow tail ] Bubbles, Peter Lehmann, Peter Lehmann Clancy's; California: Bellacosa; Eppa SupraFruta Sangria, Girard Winery, Joseph Carr, Josh Cellars, Josh Cellars Reserve, Kunde Family Estate, Layer Cake; The Calling; France: Andre Lurton, Cave de Lugny, Fleurs de Prairie, Hob Nob Vineyards, Sauvion et Fils; Washington: Skyfall; Italy: Barone Fini, Villa Pozzi; New Zealand: The Crossings; Portugal: Quinta Do Vale Meao; Spain: Mar De Frades, Cruz de Alba, Ramon Bilbao; Argentina: Clos de los Siete; Ruta 22; and award-winning spirits: Redemption Whiskey, Bib & Tucker Bourbon, Masterson's Rye and Luksusowa Vodka. www.deutschfamily.com
Contact
Deutsch Family Wine & Spirits
Karen Brennan
203-965-4355

Contact