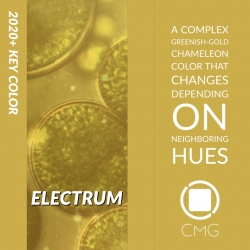 Philadelphia, PA, November 09, 2018 --(
PR.com
)-- A color of alternating currents, Electrum is the 2020+ key trend color for North America. The complex, green influenced gold has a chameleon quality that allows it to shift between the two hues, and take on altered energy in concert with other hues. This is not a chameleon color to match the background, but one to enhance it.
The green and gold essences of Electrum represent different paths as 2020+ approaches, and symbolize the complexity of the future. The green element can signify beneficial components, be empowering and certainly represents the continuing trend of environmental awareness, but it's no longer simply awareness, it is action. Discerning new uses of vegetation and algae as biofuels, and alternate protein sources, as well as building materials, will better connect us to the planet and help reassess how we use our resources.
The green is also a warning of the poisonous effect many of our actions have on our world. It is a sophisticated green that sparks discussion, planning, and engagement. Electrum is energizing as a color with which to take heed. Be bold, fix things, and be ready to celebrate the beauty that green can create.
Gold is an important component of Electrum. It not only offers a yellow cast to the color, but becomes the metallic influence over it as well. When shimmering with a metallic cast, it creates an otherworldly sense. It is not merely a mineral, but something that glows from within, offering unique qualities to whatever it embraces. It is why Electrum is seen as trend-forward across all industries, from fashion, to automotive, to home. It is
It may be complex with the ability to follow numerous paths, but Electrum is a key trend color for design, and for living, in an age of numerous possibilities.
About Color Marketing Group®
Color Marketing Group®, founded in 1962, is a not-for-profit international association of color design professionals who forecast color directions and is a forum for the exchange of all aspects color. Members represent a broad spectrum of designers, marketers, color scientists, consultants, educators, and artists. Color forecasting events are held throughout the world and the results from these events become part of the global World Color Forecast™ revealed at the annual International Summit.