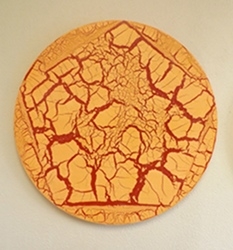 Houston, TX, November 14, 2018 --(
PR.com
)-- There exists an underlying visual pattern in the chaos of the natural world. The structure of plants, dried mud, bolts of lightning, cracks in the ice, the human body's web of blood vessels, to mention a few examples, all arrange themselves by a process called bifurcation - one line continually splitting into two. Artist James Ciosek alchemically reproduces this tendency of nature in his paintings, using a self-bifurcating mix of powdered pigment, paint, and glue on panel. These new abstract works are the focus of his upcoming show in Houston, Texas.
The exhibition, "Bifurcation," opens at HCC West Loop Art Gallery, (5601 West Loop South, 77081) on December 7th and will be on display through January 31st. Opening and closing receptions will be held on the first and last day of the show from 6pm- 8pm. The artist will be in attendance, refreshments served.
Some artists paint the forest, others depict the trees. Ciosek's scope delves deeper to explore an algorithm behind representative reality. In order to accomplish a parallel artistic expression of this algorithm, he applies a thick, wet layer of experimentally developed plaster onto a painted surface. Then, he let's it happen. As the impasto dries, it cracks and crazes itself into a multi-colored, bifurcated, fractal chaos. The artist states, "It is interesting that such complex patterns can be generated with a simple binary action. Maybe we have more in common with computers than we thought," he muses.
James Ciosek often works with techniques that generate unpredictable patterns. In previous practice he has employed firearms, paint balls, fireworks, soap bubbles, high voltage electricity, and ink blown with compressed air to evoke his signature style which he describes as "the organized randomness of chaos." Mostly devoted to mixed media light sculpture, which people have lauded as "magical" (Robert Boyd), and "ground-breaking" (Bruce Badeau), his paintings are a result of his quest for a new surface treatment. Ciosek has shown his works in solo shows at galleries and other venues around Houston since 2007. His hands on, mixed media practice stems from decades of artisanal experience in welding, blacksmithing, glasswork, tool making, and neon which he began studying in 2013 through a Windgate Fellowship at Brooklyn Glass. For more information see: www.jamesciosek.com