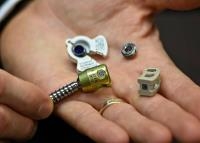 San Francisco, CA, November 15, 2018 --(
PR.com
)-- Wheeling Hospital has become the first U.S. medical facility to use the Matrix IT's TRACTUS Scanner system to enhance the tracking of surgical implantable devices.
Wheeling Hospital was selected to conduct trials of Matrix IT's TRACTUS Scanner system.
The surgical implantable devices either have tags attached to them or are engraved with codes that a scanner reads in the surgical room and then logs the information in a computer record. Several examples of implantable devices are screws, artificial knees and hips and other such devices.
"TRACTUS uses wireless sterile and handheld scanners paired with intelligent software to maximize the efficiency and accuracy of clinical care documentation at the point of care. This system appears to be the fastest, most accurate and with the lowest potential for human error," said David Rapp, Wheeling Hospital CIO and vice president-supply chain.
"Up until now, the methods used to document medical devices implanted in surgery have been subject to human error and lacking in adequate traceability in the event of a recall."
TRACTUS enables every medical device to be identified and matched with patients through their life cycles. It also keeps track of usage of hospital-sterilized implants and tools.
The system, with a simple scan, reduces the time spent documenting and handing over devices during surgery. High speed scanners are used to record information from data matrix codes placed on medical device package labels and laser marked directly on to implants.
"During surgery, TRACTUS collects every implant and surgical supply data. This information is transmitted to the TRACTUS software interface, where each device is matched with the patient's surgical site and recorded in the patient's health record, providing immediate access to their medical device information," noted Rapp.
"This information may be used by medical device manufacturers to manage their inventory and know where all affected devices are located in the event of a recall. The health care industry will be able to use the data to help combat counterfeits and analyze performance trends of each device, ensuring the appropriate implant for each patient is selected. By tracking every medical device, manufacturers, hospitals and payers will save significant health care dollars while improving patient safety and providing better care."
Dr. Kyle Hansen, medical director at Matrix IT added, "In this day and age, technology has advanced to the point where we are leveraging what is technologically feasible to improve patient care by tracking medical devices. No longer do we have to rely on the manual entry by surgical staff to make sure the information regarding medical devices is accurate. We now have technology that can read the scannable codes on medical implants and automatically capture that data in real time, and with complete accuracy, to make sure that moving forward we can track patient outcomes and ensure product safety and, ultimately, improved patient outcomes."