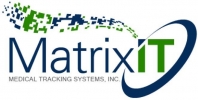 Matrix Medical Tracking Systems
http://www.matrixmedical.co
200 S Executive Dr #101, Brookfield, WI 53005
The FDA's UDI Final Rule inspired an unprecedented level of collaboration among healthcare industry stakeholders. Suppliers and providers are working together to design solutions for Unique Device Identification (UDI) tracking and documentation throughout the supply chain. These joint efforts have led to numerous innovative solutions to solve the challenge of monitoring and documenting medical devices through the supply chain and ultimately to patient implantation. However, challenges still exist for the documentation of re-sterilized products, such as orthopedic implant sets used in various types of spine, trauma, craniomaxillofacial and extremity surgeries.
To meet these challenges, Matrix IT developed TRACTUS; a comprehensive, fully integrated hardware and software UDI tracking solution. As a "turnkey" answer to automatic identification and data capture (AIDC), TRACTUS solves the unique complexities and challenges in conveying medical implant UDI.
Before surgery the TRACTUS scanner is placed upon a mayo stand and is enclosed with a sterilized sheath and drape. During the surgical procedure, the surgeon scans each implant, capturing all of the devices UDI information. The TRACTUS scanner then parses the information and wirelessly communicates with the TRACTUS software. Using a simple "drag-and-drop" feature, the nurse then assigns the final placement of the implanted device on a procedure-specific anatomical model. This information is then shared with relevant hospital departments, including documentation in the patient's electronic health record (EHR), ensuring seamless and accurate documentation that matches patients with their implants.
To find out more, contact us at matrixmedical.co/contact