San Diego Community Acupuncture Clinic Throws Major Fundraiser Party for School for Homeless Kids
Dec. 16th Source Empowered Wellness is hosting a huge fundraiser for the Monarch School as a way to give back to the San Diego community for its 3 year anniversary. There will be live bands, amazing speakers, free Boochcraft and a raffle lottery to win $100's in prizes.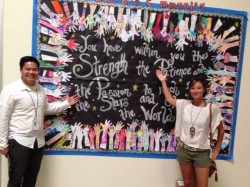 San Diego, CA, December 03, 2018 --(
PR.com
)-- Source Empowered Wellness located at 4666 Cass St., 92109, will be celebrating its 3rd year anniversary by giving back to the community in a big way. Our goal is to raise at least $3,000 for the Monarch School, the school for homeless children in San Diego. After visiting the Monarch School 3 years ago, owner Dr. Simone Ressner, proclaimed, "This is more than just a worthwhile charity. I'm convinced that if there ever was a place to give back to the community, educating homeless kids and getting them a chance for the future is it, and the Monarch School does it better than any place I know in the country. Nothing could be more important than health and education."
To celebrate their 3rd year of providing more than 8,000 low cost community acupuncture sessions, Source Empowered Wellness is bringing in amazing bands, international speakers, and generous donations to light up the cause and help raise funds for the school.
Featured will be four-time author and motivational speaker Patrick Combs, internationally acclaimed for inspiring over 2,000 organizations and for starring in the HBO comedy festival. International Relationship coach and speaker Larry Michel will be sharing his profound science of relating. Duet band Avasa and Matty Love will be laying down uplifting tunes and getting our hearts floating, all while great prizes are being announced. Boochcraft is generously featuring their amazing hard kombucha.
$100's in Raffle Prizes include: Acupuncture Sessions, in Chiropractic Sessions, Reiki Sessions, CBD basket, Photo sessions, DoTERRA products, Pilates, Acroyoga Lessons, Massage, Cali Life Co watch, Waves and Kawartha Outdoor Products, Float Sessions and more. There will be many winners and you do not need to be present to win.
People can buy their raffles for $10 in advance at www.SEWacu.com. You do not need to be present to win. Come to the event for $5 at the door, which includes one raffle ticket and one ticket for a drink.
Source Empowered Wellness strongly believes that everyone has the right to quality holistic care at price people can afford. We focus on community style acupuncture and herbal medicine. For only $30 an acupuncture session, our mission is that people can not only get well but stay well. We are honored to have more than 65 five-star reviews on Yelp, 47 five star reviews on Google, 35 five star reviews on Facebook. We pride ourselves on being the number one place to get community acupuncture in San Diego to relieve your stress, pain, digestive issues, weight control, reproductive issues, and insomnia. We also do cosmetic acupuncture.
www.SourceEmpoweredWellness.com
Facebook.com/SourceEmpoweredWellness
Instagram.com/SEWacupuncture
See attachment for full release and company info.
Contact
Source Empowered Wellness
Dr. Simone Ressner
619-761-9544
www.SourceEmpoweredWellness.com

Contact