Tastry Wins Audience Choice Award at Groceryshop
Tastry, a leading AI company recognized for best overall concept.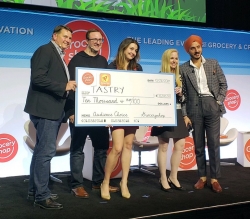 San Luis Obispo, CA, November 19, 2018 --(
PR.com
)-- Tastry, a leading AI provider for in-store product recommendations and consumer purchase engagement, received the Audience Choice Award from Groceryshop, a one-of-a-kind event on innovative technologies and disruptive trends in the grocery industry. Widely known for bringing startup and leading CPG organizations together with tech companies, their focus is to help food and grocery industries understand the disruptive new trends, technologies, and business models they must now embrace to win in a rapidly changing industry.
Tastry was honored with the overall Audience Choice Award at the Groceryshop conference held October 28-31 in Las Vegas, Nevada. Twelve companies that were eligible for the award focused in customer experience, supply chain, data analytics, and more.
"We are honored to be recognized by Groceryshop, a go-to resource for grocery and food industries," said Katerina Axelsson, CEO, Tastry. "Today's modern consumer buys differently and is fundamentally changing the way consumer packaged goods companies and retail outlets reach them. At the same time, manufactures are increasingly wanting predictive analysis with top line results. As a result, we're seeing modern marketers adopting AI to engage and convert customers across all phases of the customer journey. There are literally thousands of AI technology companies out there, we are over-the-moon excited that the audience chose Tastry."
Companies like California Fresh Markets, Save Mart Supermarkets, and Gelson's Markets are using Tastry technology to drive customer engagement and create a richer, deeper customer experience that ultimately drives ROI. To learn more about Tastry's platforms, visit tastrysolutions.com
About Tastry: An AI company based in San Luis Obispo, California, their patent-pending technology has the ability to evaluate consumer taste preferences to sensory-based products using analytical chemistry, machine learning, and AI. Tastry has accurately taught a computer how to taste. The technology serves retailers by providing science-based suggestions for product development, inventory purchase, and direct-to-consumer recommendation.
Contact
Tastry
Timothy Scott
(559) 666-4553
www.tastry.com
www.tastrysolutions.com

Contact