Update to GRLT Shareholders Related to GRILLiT Inc. and Future Plans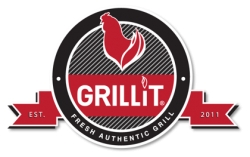 Tampa, FL, December 20, 2018 --(
PR.com
)-- GRILLiT, Inc. (OTC: GRLT) is announcing that it has acquired 100% of GRILLiT of the Suncoast, LLC, and is announcing the transition in leadership. Due to the delinquent filings and liabilities created by previous CEO's dating back to 2013, the passing of Ghazi Hajj on September 10, 2017, the complexity of multiple complex acquisitions in Tulsa Oklahoma and other related transactions under the previous management, a lengthy due diligence process was necessary to understand the current and ongoing business, financial, and legal situations faced by GRILLiT Inc.
Effective January 2, 2018, Keith Wilkerson II, the sole director of GRILLiT, Inc., transferred by agreement all controlling interest in GRILLiT Inc. to GRILLiT of the Suncoast and Gregory Mitchell as he assumed the positions of Sole Director, Chairman, CEO and Corporate Secretary of GRLT until such time that a new Board of Directors is established. There are no other individuals, relationships, or arrangements in place related to previous management or individuals who acted as consultants to GRILLiT Inc. Over the past year, numerous conversations to determine legal ownership of brands, property, assets, liabilities, were necessary to determine ownership of certain shares and update and reconcile financial statements. This process included reaching out to federal and state officials from Nevada, Oklahoma, and Florida. Lastly, historical documentation had to be provided to numerous key creditors to validate outstanding balances. Through this process GRILLiT, Inc. was trying to determine if a strategy existed that could benefit shareholders and lienholders alike.
Greg Mitchell has been an investor in GRLT common stock since late 2014. Greg Mitchell also owns a GRILLiT Franchise in Tampa that was purchased from GARR Franchising. Through negotiations with Ghazi Hajj, GRILLiT of the Suncoast was awarded a Master Franchise that covered the counties along the Gulf Coast of Florida from Marco Island to North of Tampa and over to Orlando by GARR Franchising.
GRILLiT, Inc. is in the process of reviewing multiple options to start expanding into two different areas that include:
1. Healthy & Tasty food brands utilizing the GRILLiT brand
2. Future portfolio expansion that aligns to a healthy lifestyle.
Currently, GRILLiT is a majority owner of a rental commercial property in Tulsa at the previous White Flag location along with multiple minority owners who have maintained the property at the site. That property along with the rights to the GRILLiT Brand and related intellectual properties remain property of GRILLiT Inc.
"I invested in GRLT because I believed that GRILLiT had a great product and ability to expand rapidly. My family visited the store in Miami as well as the store in Nashville before deciding to purchase our Franchise in Tampa and purchasing GRLT stock on the open market. My goal is to increase the market valuation of GRLT stock through stores that are profitable, are cash flow positive, and able to expand from increasing cash flow. I am also working with our Transfer Agent to identify stock issuances that were unmerited as these issuances had a large negative financial impact on me and my family as well as numerous other shareholders. A future reverse split is likely in order to bring the shares outstanding to a reasonable amount of other small start-up companies. The financial challenges GRILLiT INC faces are ongoing and we hope to have financials that I am willing to sign as truthful in the coming months." – Greg Mitchell
For more information, you can reach GRILLiT Inc. at: info@grillitofthesuncoast.com
Forward-Looking Statements
Except for historical information contained herein, the statements in this release are forward-looking and made pursuant to the safe harbor provisions of the Private Securities Litigation Reform Act of 1995. Forward-looking statements are inherently unreliable and actual results may differ materially. Examples of forward-looking statements in this news release include statements regarding the potential growth and advantages related to market trends and consumer preferences. Factors could cause actual results to differ materially from these forward-looking statements. These risk and uncertainties are detailed from information that may be detailed from time to time filings.
Contact
GRILLiT
Greg Mitchell
(727) 300-5775
https://grillitofthesuncoast.com

Contact