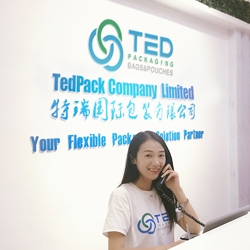 Dongguan, China, November 29, 2018 --(
PR.com
)-- While the quality of a product is often a business's first concern, well-made, dependable, attractive, and low priced packaging should also be a high priority if they intend to sell optimally and keep customers satisfied. TedPack is a leading Chinese manufacturer of packaging pouches who do business worldwide and are experts at excelling in all of these areas. To help inform, answer questions, and give customers an idea of what type of packaging pouches are available, TedPack recently added a new "
Ultimate Guide to Packaging Pouches
," that delivers just about anything a shopper could want to know on the subject.
"We think a better-informed customer from the start is a good way to help them to end up being more pleased with the experience of working with us," said by Noah (Mr. Zhang) From TedPack. "We realize we provide many different packaging possibilities so we thought having a guide right on our website, for free and with no download necessary, would help deliver a better shopping experience."
TedPack is quick to point out that potential clients are also always welcome to reach out to their team for expert suggestions, guidance or just to answer any questions on what packaging pouch will likely leave the customer most satisfied. For the company, whose loyal clients stretch across the globe, delivering optimal customer service is a must.
Prime topics covered in the new "Ultimate Guide to Packaging Pouches" include highlights like potential markets, descriptions of the different types of bags, coverage of the material for bag manufacture available, the benefits of choosing a packaging pouch, and much more.
The early reviews for this new resource made available by TedPack have been enthusiastic.
Megan L., from London, recently said, "Once we determined using TedPack would be a much less costly choice for our packaging we were left a little up in the air about which style of packaging pouch to use for our brand. The online guide featured on the TedPack website helped speed up our decision. Since then we have placed a number of orders and are totally happy with the relationship. Five stars."
For more information be sure to visit
https://www.tedpc.com/packaging-pouch
.