HCA/HealthONE's Swedish Medical Center Welcomes New Director of Trauma Services
Selina Dallas, MSN, MBA-HCM, RN, NE-BC, brings extensive experience overseeing clinical excellence and quality improvements to the only level I trauma and burn center in the south Denver metro area.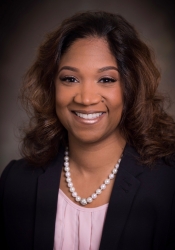 Englewood, CO, December 04, 2018 --(
PR.com
)-- After a national search, Selina Dallas, MSN, MBA-HCM, RN, NE-BC has been selected as the director of trauma at Swedish Medical Center, a level 1 trauma and burn center located in Englewood, Colorado. Dallas brings extensive experience overseeing clinical excellence, quality improvement and employee engagement to the 408 bed regional referral center located in Englewood, Colorado.
Dallas joins Swedish from Detroit Medical Center, an 8 hospital alliance of specialty hospitals, part of Tenet Health system, where she served as the administrative director over the trauma and burn programs, and behavioral health. Previously Dallas oversaw the level I trauma, burn, emergency and observation programs at Detroit Medical Center Adult Central Campus.
In her most recent role as administrative director at Detroit Medical Center, Dallas orchestrated significant improvements for the level I trauma program by adding additional clinical staff and staffing resources and increasing employee engagement from the 70th percentile to the 90th percentile. She directed and led the quality improvement program for the trauma and burn services that included the development of a burn quality improvement committee and quality improvement initiative for pre-hospital care. Her guidance led to the successful verification for both the trauma and burn programs as well as a successful joint commission survey.
Dallas graduated from Eastern Michigan University and received her Master of Science in Nursing from the University of Phoenix. She completed her Master of Business Administration in Healthcare Management from Walden University and earned her Nurse Executive Board Certification through the American Nurses Credentialing Center in 2015.
Dallas is the recipient of numerous awards, including her most recent recognition as the 2018 National Alliance on Mental Illness Nurse of the year. She is a 2017 Nightingale Award winner, a 2015 MONE Nurse Leadership Award recipient, and she was honored with the Detroit Medical Center Hospital GEM Award in 2011. Dallas is very active in the community and is affiliated with the Emergency Nurses Association, the Michigan Organization of Nurses Executives, the American Organization of Nurses Executives and the American College of Healthcare Executives. Dallas is also the founder and former vice president of Black Nurses Rock Detroit Chapter a national nursing organization, and the president and founder of Big Sisters in Nursing. In her spare time, Dallas enjoys spending time with her family.
About Swedish
Swedish Medical Center, part of HCA's HealthONE, is located in the south metro Denver area where it has been a proud member of the community for more than 110 years. An acute care hospital with 408 licensed beds, annually Swedish cares for more than 200,000 patients with a team of approximately 2,000 dedicated employees, 300 volunteers and 1,400 physicians.
With stroke door to treatment times averaging just 20 minutes, Swedish serves as the Rocky Mountain Region's referral center for the most advanced stroke treatment, and was the state's first Joint Commission certified Comprehensive Stroke Center. Swedish also serves as the region's neurotrauma and orthopedic trauma provider and is the south Denver area's only level I trauma facility with a dedicated burn and reconstructive center. Over 150 facilities regularly transfer highly complex cases to Swedish.
Swedish Medical Center offers patients the highest quality care and the most advanced technologies and treatments in nearly every medical specialty including adult and pediatric emergency, heart care, neurology/neurosurgery, pregnancy and childbirth, orthopedics and joint replacement, cancer care, gastroenterology and liver care, gynecology and urology. Additional information about the hospital is available at www.SwedishHospital.com.
Contact
Swedish Medical Center
Kara Hamersky
(303) 817-5708
www.swedishhospital.com

Contact