Road Warrior Tires, a Division of TRU Development Inc., Will be Opening Its New Warehouse in Los Angeles, California on Dec. 17, 2018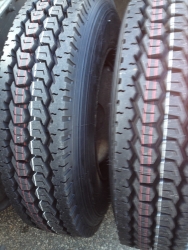 Boston, MA, December 16, 2018 --(
PR.com
)--
Road Warrior Tires
proudly announces its partnership with trucktiresinc.com. Currently preparing for the grand opening of a new distribution center in Los Angeles, California, more details will soon follow.
Located at: 4361 Valley Blvd., Los Angeles, CA 90032
Due to a tremendous increase in demand for heavy truck tires in Arizona, Nevada, Utah, Colorado and Oregon to mitigate the cost of shipping, management has approved plans for this new location. The Los Angeles warehouse will efficiently serve Road Warrior customers. "As of Dec. 17, 2018, we will start shipping from our Los Angeles, California location. This option will improve delivery times and allow customers to purchase tires locally," explained the company spokesperson.
Models of truck tires that will be available immediately from the new Los Angeles location are:
Truck Tires:
225/70R19.5
, 245/70R19.5, 295/75R22.5,
11R22.5
,
11R24.5
, 315/80R22.5, 365/85R22.5,
12R22.5
Loader Tires:
17.5X25, 20.5X25, 23.5X25, 26.5X25
Skid Steer Tires:
10X16.5, 12X16.5
About Trucktiresinc.com
Trucktiresinc.com is a Wholesale truck tires site
for business owners and truck drivers and customers who need their truck specifications. Categorize the truck, and find the recommended size of tires. If it is a heavy commercial vehicle, shoppers need to buy tires according to position. Also, consider driving needs: off-road driving, winter driving, summer driving, etc. are some factors to consider.
You have more choices, the opportunity to compare multiple items and availability, and comparable service when shopping online with trucktiresinc.com.
Some e-commerce stores have direct relationships with tire manufacturers, which can keep costs down. Sale price also depends on the services offered by the seller. Purchasing tires online is the better option, especially when convenience is a priority.
About Road Warrior Tires:
We started radial truck tire production in 1998 and reached an annual production capacity of six million units in 2013. Quality is assured by use of advanced equipment and technology from Germany, merged with first-class raw materials from Malaysia, and strict quality control and production management. We successfully sell our tires in 92 countries worldwide and enjoy a reputation for excellent product and stellar customer service.
Contact
TRU Development Inc.
David Abotbool
617-744-5470
http://www.roadwarriortires.com

Contact