Patient at Swedish Medical Center Finds Relief from New Robotic Procedure
Brianna Robinson is the first patient at the 408 bed acute care hospital to have her bladder removed and a urinary diversion created in a single robotic-assisted procedure.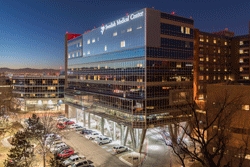 Englewood, CO, December 22, 2018 --(
PR.com
)-- HealthONE/HCA's Swedish Medical Center Surgical Robotics Institute announced their first robotic-assisted ileal conduit urinary diversion with cystectomy last month. The surgery to remove the bladder and to divert urine through a pathway created with a portion of small intestine, is just one of several new advanced robotic-assisted procedures introduced at Swedish through the Institute this year.
"The Swedish Surgical Robotics Institute continues to bring advances like this to the Rocky Mountain region," said Tyler Hood, vice president of operations at Swedish Medical Center. "Together with our physician partners, we are committed to expanding the use of minimally-invasive robotic surgical techniques to benefit our patients."
Brianna Robinson, the first patient at Swedish Medical Center to receive this new minimally invasive procedure, suffered from interstitial cystitis, or IC, a very painful chronic bladder health issue that is often mistaken for a urinary tract infection. "I was going to the bathroom over 100 times per day. It was excruciating pain and it took over my life." Robinson is one of over 200,000 people diagnosed yearly with this painful, yet common condition - a condition that is often left untreated due to the wide range of symptoms and severity.
To find solace in her pain, Robinson reached out to online support groups, tried over the counter remedies, and researched treatment that would help ease her continued discomfort. Brianna underwent several other procedures and was prescribed different medications over the course of five years. Thankfully, she learned about a less invasive procedure for her complicated condition and now hopes her story can help others find relief too. "It was horrendous and it went on for five years. I am very fortunate that I did find Dr. Dagenais and Dr. Jones because I've become friends with a lot people who have this as well. They can't find doctors who are willing to help because they don't know what causes it. I'm very lucky to have these amazing doctors," said Robinson.
The procedure was performed by urologists Julien Dagenais, MD, and Mark Jones, MD, of The Urology Center of Colorado, "We're excited to be able to offer this minimally invasive surgical option to the patients at Swedish Medical Center," said Dr. Dagenais. Dr. Dagenais completed a fellowship in advanced laparoscopy and robotic surgery at the Cleveland Clinic's Glickman Urological and Kidney Institute.
"The cystectomy and diversion performed on Brianna was completely robotic. Typically the bladder is removed robotically, but the diversion is completed through open surgery," stated Dr. Jones. "The ability to do the entire surgery robotically decreases recovery time for the patients. We are very happy we can help relieve Brianna's pain and discomfort. This is the outcome we work for." Dr. Jones completed his Fellowship training in advanced laparoscopy, robotic surgery and urologic oncology at the University of Minnesota.
A robotic-assisted cystectomy is a minimally invasive technique performed using the da Vinci Xi® Surgical System, a specialized surgical tool that allows the surgeon better visualization and improved fine motor control. Patients benefit from a shorter hospital stay and an even faster return to a normal level of activity with fewer noticeable scars.
"I am doing amazing," said Robinson, who received the surgery on November 1, "I was up and walking the next morning. I showered the next morning. I feel like I did before I developed IC. I feel normal. If there are other patients out there that have IC I want them to know you don't have to suffer forever."
For more information about robotic-assisted surgery at the Swedish Surgical Robotics Institute visit
SwedishHospital.com/robotics
or call 303-788-6717.
About Swedish
Swedish Medical Center, part of HCA's HealthONE, is located in the south metro Denver area where it has been a proud member of the community for more than 110 years. An acute care hospital with 408 licensed beds, annually Swedish cares for more than 200,000 patients with a team of approximately 2,000 dedicated employees, 300 volunteers and 1,400 physicians.
With stroke door to treatment times averaging just 20 minutes, Swedish serves as the Rocky Mountain Region's referral center for the most advanced stroke treatment, and was the state's first Joint Commission certified Comprehensive Stroke Center. Swedish also serves as the region's neurotrauma and orthopedic trauma provider and is the south Denver metro area's only level I trauma facility with a dedicated burn and reconstructive center. Over 150 facilities regularly transfer highly complex cases to Swedish.
Swedish Medical Center offers patients the highest quality care and the most advanced technologies and treatments in nearly every medical specialty including adult and pediatric emergency, heart care, neurology/neurosurgery, pregnancy and childbirth, orthopedics and joint replacement, cancer care, gastroenterology and liver care, gynecology and urology. Additional information about the hospital is available at
www.SwedishHospital.com
.
About The Urology Center of Colorado
The Urology Center of Colorado (TUCC) is the only comprehensive urology center in the Rocky Mountain region providing treatment for all urologic conditions at one location. TUCC includes: a state-of-the-art urology clinic; radiology, laboratory and pathology services; on-site radiation therapy; a comprehensive urologic cancer center; a clinical research department and a full-service outpatient ambulatory surgery center.
www.tucc.com
.
Contact
Swedish Medical Center
Kara Hamersky
(303) 817-5708
www.swedishhospital.com

Contact