Philanthropist, Producer, Lily Lisa Named Golden Film Awards Goodwill Ambassador
Esteemed Filmmaker honored as "Goodwill Ambassador" at the US Hollywood International Golden Film Awards.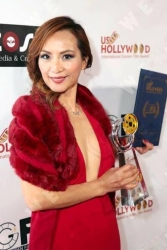 Hollywood, CA, December 29, 2018 --(
PR.com
)-- Filmmaker, Producer, Lily Lisa's award winning documentary "As Always Stay By Me" paved the way for her to be named US Hollywood International Golden Film Awards' (USHIGFA / GFA) Goodwill Ambassador at the 2018 GFA's. The event was held at the Le Foyer Ballroom in North Hollywood, CA.
"As Always Stay By Me" was a previous Outstanding Documentary winner at this festival and this year the filmmaker, Lily Lisa's involvement with the festival brought her additional recognition. As Goodwill Ambassador, Lily Lisa is one who helps to promote and develop the festival with other committee members.
USHIGFA Film Festival was founded to recognize and honor those who use their creative talents to celebrate the range and diversity of filmmakers in an interconnected world by encouraging filmmakers to "Twist the System." By rewarding unique and unorthodox approaches to filmmaking, GFA emphasizes emerging technologies such as mobile devices and digital media in film production and distribution.
"We wanted to create a virtual space for the Golden Film Award, where geography and physical distance wouldn't be a constraint," says founder, Michael Tse. As an International Film Festival, it brings mutual appreciation for global and cultural diversity.
Produced and directed by Lily Lisa, "As Always Stay By Me," is a documentary addressing homelessness in Los Angeles. Camera's followed Lily Lisa sharing her love of giving back to a community that needs it most. Lily Lisa works from the heart to help those less fortunate, it is her mission and has been her life's desire from a young age to help people; and she makes giving a priority.
Originally from Hong Kong, this filmmaker travels all over the world bringing her message of love and hope to thousands, but was humbled and honored to be recognized by the Golden Film Award organizing committee.
The fashion icon, Lily Lisa, wearing a gown designed for Laundry by Shelli Segal, stepped to the stage to receive her award. As she always says, "The beauty is not just outside, but must come from within the heart."
Lily Lisa also known as an actress and Red Carpet Host, shines the light as an ambassador with a vision; not only in the Hollywood community, but also by touching lives and inspiring others to "always follow your heart and do your best."
The elegant Lily Lisa has gained a respectful position within the Hollywood glitterati promoting Asian contributions to filmmaking. She believes it is a win-win for the cooperation of Asian-American partnerships.
Contact
TRC - The Right Connection
Norma Dalke
310-668-1988

Contact