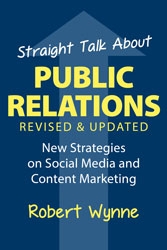 Palmyra, VA, January 08, 2019 --(
PR.com
)-- "Straight Talk About Public Relations, Revised and Updated" presents realistic, powerful insights about how to tell a story, make an impact, and increase influence – it explains how the game of communications is played today. Persuading people to buy products or services, change their opinions, or support causes is difficult. But there are tactics that work – and readers will find them in this book.
The competition for eyeballs and attention keeps getting harder, so communicators need all the help they can get. "Most books on public relations are useless," says author Robert Wynne. "They're boring academic textbooks written by group consensus filled with outdated scholarly theories or fantasies about social media tricks 'guaranteeing' that you'll go viral and instantly obtain fame and fortune."
Creating great content, and presenting a story, words, and images to the media and influencers, is critically important to performing public relations. The two biggest trends in public relations are social media and content marketing, and this revised and updated edition features new insights into:
- finding and engaging an audience
- successfully pitching the media
- writing an editorial that wows
- creating a persuasive social media campaign
- dealing with fake news
- measuring PR success
This witty, no-holds-barred introduction to the art of public relations is perfect for entrepreneurs, small business owners, students, those working in the PR business who want to update their skills, and any consumer of media who wants to understand the secrets of persuasion.
Bottom line: The key to PR success, says Wynne, is being able to write well and tell a great story. "If you can become a trusted resource by promoting your cause to the media and by sharing content on social media, you will succeed. There will always be a good channel for well-written, professionally produced content if you can find the right channel and/or by making friends and good connections with journalists."
"Straight Talk about Public Relations, Revised and Updated" is available January 8, 2019. More information can be found at http://mavenhousepress.com/our-books/straight-talk-about-public-relations-revised-and-updated/. Author Robert Wynne can be reached at rob@wynnepr.com or 310.540.7204.
Praise for the first edition:
"Robert Wynne's new book explains how public relations is different from advertising, then guides the reader through traditional methods, social media communications, and content marketing to reach journalists and other important audiences. If you're willing to work hard and want to promote yourself or your brand, read this book." - Michael Levine, public relations expert, speaker, and author of nineteen books including the bestselling "Guerrilla P.R."
"Straight Talk is one of the few PR books I feel comfortable recommending. It's packed with actionable advice, great tips from a wealth of experts, and enough case studies to help professionals in a field that can use a dose of reality and a swift kick in the ass." - B.J. Mendelson, author of "Social Media is Bullshit"
"If Robert Wynne can persuade the media to take an interest in books written by an economist (as he did many times for me), just imagine how successful his approach would be for those of you with something genuinely interesting to say." - Robert H. Frank, PhD, H. J. Louis Professor of Management and Professor of Economics at the Johnson Graduate School of Management, Cornell University, New York Times columnist, and bestselling author of "Success and Luck"
"Whether you're trying to write a compelling press release, pitching yourself or your product for media coverage, or creating a social media campaign that works, Robert Wynne's 'Straight Talk about Public Relations' tells you everything you need to know." - Dave Boone, two-time Emmy Award- and Writers Guild Award-winning writer, from the Foreword
About the Author
Robert Wynne is president of the public relations and events agency Wynne Communications. He was a Forbes contributor on public relations from 2009 to 2018. Wynne was formerly Director of Communications at the University of Southern California's Marshall School of Business, Director of Marketing at the major law firm Manatt, Phelps & Phillips, and a reporter for Newsweek and the Los Angeles Times. He also wrote for CBS's "Walker, Texas Ranger." He has provided public relations counsel for Cornell University SC Johnson College of Business, Johns Hopkins Carey Business School, MIT Sloan School of Management, UCLA Law School, the law firm of Stroock & Stroock & Lavan, and many others. He holds a BS in Economics from Vanderbilt University and an MA in Communications from the University of Texas at Austin.
About Maven House Press
Maven House is an independent publisher of books that inspire people to use business as a force for good, books that challenge conventional thinking, introduce new ideas, offer practical advice, and illuminate paths to greatness. Its titles are distributed worldwide by Publishers Group West/Ingram. For more information visit mavenhousepress.com.