Biig: Turning Car Trunk Into a Delivery Destination to Protect Packages from Theft
Biig is turning car trunks into mobile lockers to secure packages from being stolen and damaged. Packages are left unattended for hours, which can result in theft and being damaged from rainy weather.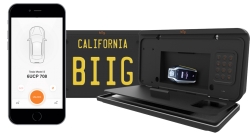 Burlingame, CA, January 11, 2019 --(
PR.com
)-- With the rise of "porch pirates" in which 30% of Americans claim that they had a package stolen from outside their home, the difficulties of managing last mile delivery have grown. From letting strangers drop packages inside your home, to installing lockers in stores and public areas, retailers and delivery companies are eager to find solutions because it is not only about the financial cost but also the negative impact on customer experience.
Based in the heart of Silicon Valley,
Biig
is bringing innovation into logistics challenges. Introducing the BiigVault™, a state-of-the-art smart lockbox where the keys to the vehicle can be stored, a delivery person can unlock the lockbox with pin code to retrieve the car key to temporarily access the trunk of the car. The pin code is valid at one-time use for a specific period of time and expires outside the designated time-frame. The delivery person locates the car, retrieves car key from the BiigVault, and delivers the package in the trunk.
Biig
opens up a whole new level of convenience and flexibility to customers while utilizing their parked vehicles. In-trunk delivery would let customers receive packages while at work or while away from home. In addition to transforming car trunks into utilized space and providing unprecedented convenience to customers, the BiigVault immediately unlocks several opportunities for OEMs, car dealerships, and businesses to serve customers in ways that have never been done before.
One example is the opportunity for businesses to use the BiigVault for remote access to provide a suite of digital concierge services such as gas fill-up, roadside assistance, and other mechanical work and auto services, enhancing customer experience and gaining customer loyalty.
Home to the leading car manufacturers in the world, Biig is debuting its technology while leading industry discussions on the transformation of the automotive sector in Munich, Germany at Mobility Pioneers on February of 2019.
"We are in a mission to transform vehicles into more than just carriages that move people from point A to B. At Biig, we build technologies that impact consumer's day-to-day lives and expectations," said Biig's CEO, Charlene Consolacion.
Contact
Biig
Veronica Concepcion
650-273-6677
www.biig.co

Contact