T-REX Expands Client Relationship with Macquarie Capital to Its Data Service Platform
T-REX announces expanded client relationship with Macquarie Capital to its data service platform. The advisory, capital markets and principal investment arm of Macquarie Group will leverage T-REX's Performance Data Service to enhance the data management process for its global green energy business.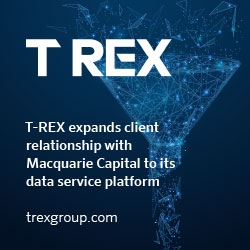 New York, NY, January 16, 2019 --(
PR.com
)-- T-REX and Macquarie Capital, the advisory, capital markets and principal investment arm of Macquarie Group (ASX: MQG), today announced an expanded relationship in which T-REX will onboard assets to its proprietary
Performance Data Service
(PDS). T-REX PDS will provide Macquarie and its clients unprecedented transparency into the performance of each individual asset throughout their multi-decade lifetimes.
This news follows T-REX's inclusion in Macquarie Capital Venture Studio (MCVS), a platform for innovative infratech companies. T-REX was selected for MCVS for its proven ability to bring efficiency and sustainability to the complex energy and infrastructure markets. As part of this engagement, Macquarie and R/GA Ventures will extend strategic guidance, financial capital and access to their vast industry network of specialists to widen market adoption of T-REX's big data capabilities.
Larry Handen, Head of Principal Investing and Private Capital Americas, Europe and Asia, Macquarie Capital, commented, "T-REX embodies the disruptive innovation that MCVS was designed to find and help accelerate. We are pleased to deepen our relationship with the company and its products and extend support for their ongoing market expansion."
Handen continued, "Macquarie is committed to facilitating investment in renewables, and T-REX improves our ability to quantify renewables' financial and environmental impacts with valuable real-time business intelligence. As our global green energy business continues to scale, this enhanced data management process will drive deployment across all sectors, enabling us to consistently track the assets' performance on an ongoing basis."
T-REX CEO Benjamin Cohen said, "Macquarie's growing commitment to T-REX is a testament to both the efficacy and transformative nature of our product. In the post-financial crisis world, renewables and real assets are in high demand but remain opaque, complex, and illiquid. Using T-REX's data service and SaaS platform, market practitioners get the transparency needed to confidently tap into the yield potential of these high growth asset classes. We are thrilled that Macquarie, a global leader in renewables and real asset financings, selected T-REX PDS to automate data management and are honored to be a part of the Macquarie Capital Venture Studio to empower efficient finance in these complex markets."
About T-REX
T-REX combines sophisticated SaaS technology with big data and asset class expertise to drive down cost of capital and reduce risk exposure for renewable energy and other esoteric asset classes. Solutions are designed to address friction at each stage of the investment lifecycle -- from origination to securitization or whole loan sales to investment. By empowering efficient, transparent finance in these markets, T-REX creates significant investment opportunities across $500 billion in new assets every year, benefitting developers, originators, investment banks, rating agencies, accounting firms, and investors. Visit
www.trexgroup.com
to learn about our products and services for Structured Credit Markets and for Infrastructure Project Finance.
About Macquarie Capital
Macquarie Capital combines grounded thinking with innovative approaches to develop transformative ideas and realize greater possibilities for our clients - our partners. We look beyond convention to connect our clients with ideas and opportunities others don't see, while our global platform, specialized expertise and comprehensive services allow us to deliver what others can't.
Our capabilities encompass corporate advisory and a full spectrum of capital solutions, including capital raising services from equity, debt and private capital markets and principal investments from Macquarie's own balance sheet. These offerings are reinforced through our deep sector expertise in aerospace, defense and government services, consumer, gaming and leisure, financial institutions, infrastructure and energy, real estate, resources, services, telecommunications, media and technology sectors across the US with 402 transactions completed, valued at $264 billion in the year to 31 March 2018.
Contact
T-REX
Nandita Ray
1-323-435-3129
www.trexgroup.com

Contact