True Green Enterprises Manufactures the Best Straw Alternative to Plastic, PLA and Tree Made Paper Straws
The United States goes through over 500 million plastic straws every day, according to Eco-Cycle, a United States-based nonprofit recycling organization.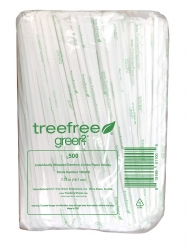 Boca Raton, FL, January 21, 2019 --(
PR.com
)-- When a straw is required...The better straw alternative is Tree Free Bamboo Paper Straws made with Rapidly Renewable Resources. No trees are harmed.
Bamboo Paper Straws are:
Marine Aerobic Disintegration Tested*
Stronger than Paper with No Paper Taste
Compatible with All Lids – Straws Won't Splinter
USDA Certified 100% Bio-Based Product**
Private Label and Custom Sizes Available
PLA straws made from Corn are only Compostable in an Industrial Compost Facility which are limited in the USA.
Plastic and PLA straws are too small to pass through the recycling sorting machines. Most end up in the landfill or in the Oceans endangering wildlife.
Many municipalities are starting to look at banning PLA straws as well as plastic as they take up to 1000 years to decompose in a landfill and our precious Oceans.
www.truegreenpaper.com
*Tested by OWS
**USDA Bio-Preferred Program
Contact
True Green Enterprises
Terry Lehmann
844-728-3873
www.truegreenpaper.com

Contact