Dr. Daniel Andreae is Named 2018 Man of the Year, and Sits Down for a Spotlight Interview with the Top 100 Registry
Dr. Dan Andreae, Distinguished Professor at the University of Guelph Humber & the University of Waterloo, sits down with the Top 100 Registry for a Spotlight Interview discussing a range of topics including life-long learning, psychology & stress management, his career in social work and his extensive involvement in the field of neurodegenerative diseases, particularly his work with both the Weizmann Institute and with the Alzheimer's Society.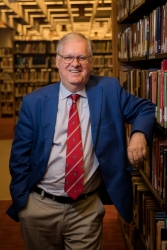 Toronto, Ontario, Canada, January 24, 2019 --(
PR.com
)-- Dr. Daniel Andreae is an award-winning professor who is both an Adjunct Professor at the University of Waterloo and Professor at the University of Guelph Humber. Born in Canada, Dr. Andreae holds a Doctor of Education (PhD) from the University of Toronto and Doctor of Science (PhD) specializing in neuroscience. His master's in clinical social work was earned at Wilfrid Laurier University. Prior to attending the Wilfrid Laurier University, Dr. Andreae earned his bachelor's Degree in Psychology from York University in Toronto. As a result of studying with the Benson Henry Mind Body Institute in Boston, affiliated with Massachusetts General Hospital, Dr. Andreae was granted membership in the Harvard Medical School Post Graduate Association.
Throughout his illustrious career, Dr. Andreae has received numerous awards and accolades for his outstanding leadership and commitment to Psychology and Higher education. He was just recently selected for the "Lifetime Achievement Award" for 2018 and as "Top Professor of the Year" for 2017 by the International Association of Top Professionals, for his exemplary achievements in the fields of Psychology and Higher Education. He was recently just honored at IAOTP's Annual Award Gala at the Ritz Carlton in Battery Park, New York City.
Watch the 2018 Man of the Year Spotlight Interview featuring Dr. Dan Andreae.
The Top 100 Registry is the world's leading publisher of professional, executive and entrepreneur biographies, dedicated to empowering our 400,000 members with effective branding tools to help them achieve success. Our membership base is international, with the majority of individuals residing in English-speaking countries such as the United States, Canada, Australia, New Zealand and England. From healthcare to finance to education and law, our constituents represent every major industry and occupation, at all career levels.
Contact
Top 100 Registry Inc.
David Lerner
855-785-2514
www.top100registry.com

Contact