Announcing FemAle Brew Fest® 2019 - South Florida's 3rd Annual Beer Festival Celebrating Women in the Brewing Industry
The now popular female-focused beer festival is back for its third year and moving to the incredible Pegusus Park in partnership with Gulfstream Park.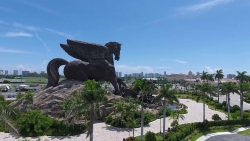 Fort Lauderdale, FL, January 29, 2019 --(
PR.com
)-- Fem Collective presents the 3rd Annual FemAle Brew Fest on March 23 at Pegasus Park at Gulfstream Park – home of the largest bronze equine statue in the world. In 2019, the FemAle Brew Fest will host an even larger selection of breweries either owned or co-owned by women or with a female running an important part of the business.
After a successful first and second year, the festival has moved to a more central and "pet friendly" location with a covered pavilion and a more unique experience to further deliver on its promise to celebrate women and beer in the best way possible. So far the festival has 15 confirmed breweries with new additions being added on a continuous basis. The festival will also feature some planned Brewster talks with some of the Female Beer Experts shattering craft beer's glass ceiling.
"It is important to have events like the FemAle brew festival because women in the industry need safe spaces to connect, learn, and grow. It is also a testimony to the rich historical legacy of the original brewers, who were women from the Mesopotamian River Valley Culture. I've had quite a few young ladies come up to me and talk about how they did not know women were 'allowed' in the industry and were very inspired by what we were doing. It is our duty to take up space and create pipelines in the industry and in leadership for other women and folks from marginalized identities. Also, it's important because we need spaces that reflect our culture and allow us to learn from each other, share from our heart centers, and relax. The camaraderie and laughter is healing for our souls and inspires our brews," says L.A. McCrae, Founder of Black Star Line Brewing Co. "We wanted to be a part of FemAle because of the ethos and energy of the event. We know that this event is not only highlighting the brilliance of women in the brewing industry but providing in-person education to those in the industry and beer lovers. We wanted to be a part of the positivity and connect with other female brewers from across the country. We are blessed to be a part of this event and look forward to collaborating for many years to come."
The festival also welcomes its now resident DJ. La Trice Perry and a number of female run vendors and food establishments. In addition, the festival is bringing back popular all-girl band, Mona Lisa Tribe.
"Moving to this new location gives us the opportunity to be more central to the heavy base of beer drinkers in Miami but still be in Broward County and accessible to our Palm Beach attendees," says Frances Antonio-Martineau, Festival organizer and CEO of Fem Collective. "Since taking over the Pink Boots Society leadership in Florida and starting the Girls Pint Out Broward Chapter we've continued to grow and support women who love and make beer on a monthly basis."
Confirmed breweries include: Black Star Line Brewing Co., Black Cauldron Brewing, Red Cypress Brewing, Islamorada Beer Company, Fat Point Brewing, Crooked Can Brewing Company, Swamp Head Brewery, Concrete Beach Brewery, Ellipsis Brewing, Cigar City Brewing, Infinite Ale Works, Leaven Brewing, Bootleggers Brewery, Deviant Wolfe Brewing, Odd Elixir Meads.
VIP Tickets starting at $50 for Early Bird tickets. | VIP will include Entrance to the event an hour prior to General Admission, Complimentary bites, Commemorative Gift, Access to the VIP Pavilion, Beer Sampling (2pm-6pm *while supplies last).
Beer Enthusiast starting at $35 for Early Bird tickets. | Beer Enthusiast tickets will include Entrance to the event an hour prior to General Admission, Beer Sampling (2pm-6pm *while supplies last).
General Admission starting at $25 for Early Bird tickets. |GA tickets will include Beer Sampling (3pm-6pm *while supplies last)
Designated Driver tickets will be offered at $15 and will allow entrance to the event (no alcohol).
The festival will be donating a portion of proceeds to Abandoned Pet Rescue (APR), founded in 1996, is a 501(C)(3) IRS tax-exempt, qualified non-profit charitable organization that rescues and shelters abandoned, abused, and neglected pets, rehabilitates them and finds them new homes. APR is one of the largest no kill animal shelters in South Florida and is devoted to the welfare of all animals.
For more information and a complete list of breweries and sponsors, visit femalebrewfest.com
Event Information
Beer Sampling: 2pm - 6pm
VIP Admission: 2pm - 6pm
Beer Enthusiast Admission: 2pm - 6pm
General Admission: 3pm - 6pm
Tickets available at:
www.FemAleBrewfest.com
Location: Pegasus Park at Gulfstream Park
Organizers:
Main Organizer: Fem Collective
Co-Organizer: UniteUs Group
About Fem Collective
Fem Collective is community of women collectively supporting the missions, issues and ambitions of women through networking and events. For more information about Fem Collective, please visit www.femcollective.com and @femcollective.
About UniteUs Group
UniteUs Group is an advertising and marketing consultancy developed under a new model that unites various synergistic entities under one umbrella to deliver progressive creative that benefits the client and various communities by ways of notoriety, innovation and profit. Opened in 2017 the consultancy applies experiences and a vast network of creative talent nurtured over two decades to execute either solely or with strategic relationships a range of services spanning Strategic Marketing, Interactive Marketing, Market Research, Guerilla Marketing, Public & Media Relations, Branded Content, Brand Design & Identity, Brand Activations, Brand Strategy, Creative Direction, Design & Production, Social Strategy & Execution, Media Planning/Buying, Event Curation, Experiential Marketing, Experience Design, Prototyping, Business Consulting. For more information about UniteUs Group, please visit www.uniteusgroup.com and @uniteusgroup.
Contact
FemAle Brew Fest
Andrew Martineau
954-850-8581
www.femalebrewfest.com
Frances Antonio-Martineau / Founder
femalebrewfest@gmail.com

Contact