Cruise Ship Interiors Expo Miami Announces Its First Conference Speakers
Cruise Ship Interiors Expo Miami is a free-to-attend event catering exclusively to the cruise interiors industry; Industry experts from Norwegian Cruise Line, Holland America Line, Seabourn, and Studio DADO will speak at the conference; The inaugural expo will take place June 18-20, 2019 at the Miami Beach Convention Center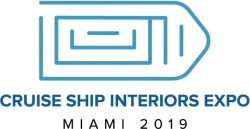 Miami, FL, January 30, 2019 --(
PR.com
)-- Cruise Ship Interiors Expo, the world's first highly focused event dedicated to interior design, architecture, and outfitting in the cruise industry, has announced its first conference speakers and key topic sessions. The inaugural event will take place June 18-20, 2019, bringing together senior delegates to debate and discuss the latest issues, opportunities, and challenges in the cruise interiors industry. The two-day conference is free to attend and CPD-accredited for professionals who collect points in this field.
"The significant passenger demand in the cruise line industry has fueled a rapid transformation in marine interior and outfitting, creating a plethora of experiences for everyone on board," comments Toby Walters, CEO, Cruise Ship Interiors Expo. "With this in mind, we have curated a conference program that kicks off with a leaders' debate and follows on with topics including sustainability at sea, color predictions, future design trends, and passenger flow."
Confirmed speakers include:
- Francesca Bucci, President, BG Studio
- Javier Calle, Founding Partner, Studio DADO
- Dee Cooper, Senior Vice President of Design, Virgin Voyages
- Colin Gant, Vice President of Vessel Refurbishment, Norwegian Cruise Line Holdings
- My Nguyen, Deputy Director of Interior Design & Operations, Holland America Line & Seabourn
- Vittoria Garroni, Founder & President, Garroni Design
The event is co-located with Marine Catering Expo, where galley and restaurant stakeholders can meet with qualified buyers from the passenger ship sector. With more than 200 exhibiting suppliers, unparalleled networking opportunities, and live demonstrations of the latest products to hit the market, delegates will be inspired and equipped to grow their business and push their creative boundaries.
For further information, visit the conference overview page
here
.
Follow developments and updates on Cruise Ship Interiors Expo Miami (#CSIE19 / #DesignedToInspire) on Twitter, Instagram, and LinkedIn.
About Cruise Ship Interiors Expo
Cruise Ship Interiors Expo is a brand-new event for the cruise interiors industry. Its Miami event will host more than 200 exhibitors from across the cruise interiors supply chain and deliver a comprehensive conference program led by industry experts. Cruise Ship Interiors Expo Miami benefits those in all areas of the cruise interiors industry, from flooring suppliers, to design studios, to interior outfitters and shipyards. At its inaugural event, Cruise Ship Interiors Expo will provide the industry with a much-needed platform to come together and network face to face.
If you would like more information on Cruise Ship Interiors Expo Miami, please contact Chloe Griffin at chloe.griffin@elite-exhibitions.com or call directly on +44 1273 021 330.
Contact: Chloe Griffin, Marketing Manager
Phone: +44 1273 021 329
Email: chloe.griffin@elite-exhibitions.com
Contact
Cruise Ship Interiors Expo
Chloe Griffin
+44 1273086300
www.cruiseshipinteriors-expo.com

Contact